Forein tracking stations in Argentina
Space


To keep in contact with an ever growing armada of spacecraft ESA has developed a tracking station network called ESTRACK. This is a worldwide system of ground stations providing links between satellites in orbit and ESA's Operations Control Centre (ESOC) located in Darmstadt, Germany. The core ESTRACK network comprises 10 stations in seven countries. Major construction has now been completed on the final piece of this cosmic jigsaw, one of the world's most sophisticated satellite tracking stations at Malargüe, Argentina, 1000 km west of Buenos Aires.
ESA's Core Network comprises 10 ESTRACK stations: Kourou (French Guiana), Maspalomas, Villafranca (Spain), Redu (Belgium), Santa Maria (Portugal), Kiruna (Sweden), Perth (Australia) which host 5.5-, 13-, 13.5- or 15-metre antennas. The new tracking station (DSA3) at Malargüe in Argentina, joins two other 35-metre deep-space antennas at New Norcia (DSA1) in Australia (completed in 2002) and Cebreros (DSA2) in Spain, (completed in 2005) to form the European Deep Space Network.
The essential task of ESTRACK stations is to communicate with missions, up-linking commands and down-linking scientific data and spacecraft status information. The tracking stations also gather radiometric data to tell mission controllers the location, trajectory and velocity of their spacecraft, to search for and acquire newly launched spacecraft, in addition to auto-tracking, frequency and timing control using atomic clocks and gathering atmospheric and weather data.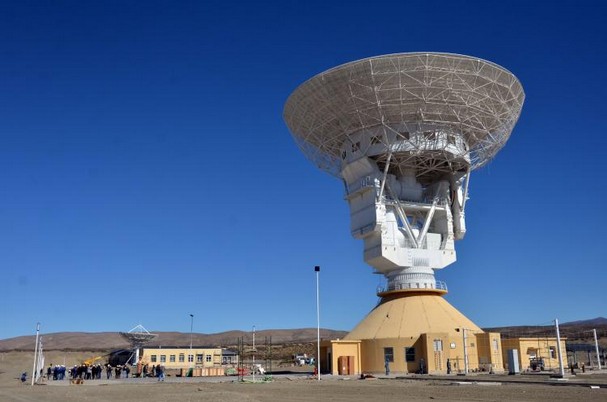 China and Argentina have signed an agreement for space cooperation that will allow China to build an antenna for deep space observation in Argentina's southern Patagonia region, the Argentinian embassy in Beijing said Monday.
According to the agreement signed in Beijing last week, China plans to establish ground tracking, command and data acquisition facilities, including a deep space antenna, in the Province of Neuquén, Argentina.
"This agreement will allow China to count as from the year 2014, with a ground station in the Southern Hemisphere to support the Program for moon exploration and other space activities," the Argentinian embassy in Beijing said in an e-mail to the Global Times, stressing that such cooperation was "for peaceful uses."
"On the other hand, Argentina will share the use of the facilities for the benefit of its own space programs," it added.
The signing of the deal came after China in June successfully completed a manned space docking mission between Shenzhou-9 spacecraft and Tiangong-1 lab module.
Argentina's space program is one of the most advanced in Latin America. The European Space Agency (ESA) is already finishing construction of an antenna in Argentina's central-west Mendoza province, to support deep space exploration, AFP said.
This year marks the 40th anniversary of the establishment of China-Argentina diplomatic ties. China has already become Argentina's second largest trade partner and third largest source of foreign investment.
Chinese Premier Wen Jiabao paid a visit to Argentina in June and met with Argentine President Cristina Fernandez. The two leaders vowed to further promote the development of the strategic partnership between Beijing and Buenos Aires.
"This agreement constitutes another example of the friendship between both countries expressed in concrete actions of cooperation for the advancement of their peoples," the embassy noted.
"The deal between China and Argentina can be seen as a sign of China's growing influence in Latin America as well," Jiang Shixue, deputy director of the Institute of Latin American Studies at the Chinese Academy of Social Sciences, told the Global Times.
"This shows that China is gradually expanding its bilateral cooperation with Argentina and Latin American nations, from economic and trade sectors to science and technology. Such cooperation offers a good example for new South-South cooperation," he said.