Cicare CH-14 Aguilucho
Planes > Choppers

AGUILUCHO - EX
Role Light helicopter
Manufacturer Cicare Helicopteros S.A.
Designed by Agusto Cicare
First flight 2007-03-19
Status In Development
Primary user Argentine Army
Number built 1



The Cicare CH-14 Aguilucho (Spanish for "Little Eagle") is a light helicopter manufactured by Cicare Helicopteros S.A. of Argentina. The helicopter is intended for use in civil, security and military roles.
Design and development
In 2005, the Argentine Army Aviation commissioned Agusto Cicaré to build a light helicopter. The prototype was completed early in 2007, and the first flight occurred on 19 March 2007. The prototype made its public debut during "Army Aviation Day" on 23 November 2007.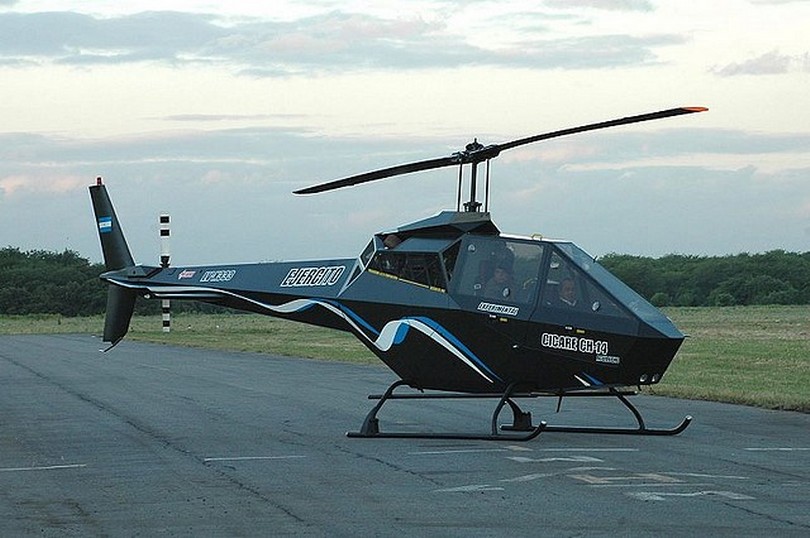 Specifications

General characteristics

Crew: 2. Light two-seat Tandem
Length: 11.8 m (38 ft 7 in)
Rotor diameter: 10.00 m (32 ft 8 in)
Height: 3.3 m (11 ft 0 in)
Empty weight: 750 kg (1650 lb)
Max takeoff weight: 1,450 kg (3,190 lb)
Powerplant: 1× Rolls-Royce Allison 250-C20-B turboshaft, 313 kW (420 shp)
Propellers: two blade rotor
Main Transmission Case 2 Stages of reduction. The first by ring and crown gears and the second via an epicyclic train. The lubrication for both components of the case and also the freewheeling system -- a gear-driven pump which lubricates by injectors.


Performance

Maximum speed: 240 km/h (149 knots, mph)
Cruise speed: 210 km/h (131 knots, mph)
Range: 510 km (275 nm, 320 mi)
Ferry range: 1,000 km (540 nm, 620 mi)
Service ceiling: 4,500 m (14,764 ft)
Rate of climb: 8 m/s (1,925 ft/min)

Interior:
Composite monocoque, with a spatial configuration derived from the ergonomics of pilots.

Fuselage:
Aeronautical quality, 4130 steel tube welded in space-frame mode. Supports and contains all the main elements of the aircraft, including the cockpit for the pilots.

Fuselage skin:
Composite materials of sandwich construction, vacuum laminated.