North Korea Air Force
Planes > Air Forces
KPAF

Founded 20 August 1947
Country Democratic People's Republic of Korea
Size 110,000 personnel - 1,600-1,700 aircraft

Part of Ministry of the People's Armed Forces

Anniversaries 20 August
Engagements Korean War, Vietnam war

Commanders

Commander-of-KPAF Colonel General Oh Gum-chol

Aircraft flown

Attack SU-7 · SU-17 · Nanchang Q-5 · SU-25
Bomber Harbin H-5 · Ilyushin Il-28
Fighter Chengdu F-7B · Shenyang F-5
Shenyang F-6 · MIG-21 · MIG-23 · MIG-29
Trainer L-39 · MIG-15 · Nanchang CJ-6
Transport IL-76 · AN-24 · AN-2




The Korean People's Army Air Force, is the name of the unified aviation forces of North Korea. The KPAF is the second-largest branch of the Korean People's Army with an estimated 110,000 personnel. It possesses between 1,600 and 1,700 aircraft of different types, mostly of Soviet and Chinese origin. Its primary task is to defend North Korean airspace. When the People's Army Group was formed, the aviation unit became its air force branch on August 20, 1947. North Korea celebrates August 20 as the Air Force Foundation Day.


History

Kim Il-sung set up the Aviation Association branches in Pyongyang, Sinuiju and other parts of the country right after the liberation of the country from Japan. In December 1945 he merged them into the Aviation Association of Korea. The air force became a separate service in 1948. The KPAF incorporates much of the original Soviet air tactics, as well as North Korean experience from the UN bombings during the Korean War. In 1990-91, North Korea activated four forward air bases near the DMZ.

Organization

Operational doctrine
Given North Korea's experience with heavy U.S. bombardments in the Korean War, its aim has been mainly to defend North Korean airspace. The heavy reliance on fighter aircraft, Surface-to-air missile and Anti-aircraft warfare reflects this. However, since nearly all of North Korea's aircraft inventory consists of aging and obsolete Soviet and Chinese aircraft, the primary goal of the air force may have changed in the last years to providing ground support for the land forces and threatening South Korean population centers and military targets with a massive air attack.

In this way, North Korea could try to maintain military parity with South Korea by using its air force as a deterrent, much like its ballistic missiles, instead of trying to maintain a technological parity in aircraft types for individual air to air roles. This seems to be confirmed by the recent redeployment of 120 mostly obsolete fighters, bombers and transport aircraft closer to the demilitarized zone, even though 440 modern aircraft are also based near the DMZ. Keeping in mind the production, storage and use of a vast chemical, biological and possibly nuclear weapons inventory by North Korea, this change in doctrine is even more significant.

Personnel and training
The KPAF is estimated to possess a total strength of 110,000. Personnel for the KPAF are obtained through voluntary enlistment, conscription and assignments from other branches of the KPA. The selection criteria for the KPAF are higher than for the ground forces or navy. This has resulted in a force which is qualitatively above the national average in the level of education, technical proficiency, political reliability and ideological conviction. In general, Non-commissioned officers and privates of the KPAF are required to serve three years and those with technical specialisations serve four years.

Officers serve for 20–30 years and are usually discharged only for physical disability, illegal activities or political reasons. All pilots are believed to be members of the Korean Workers' Party. Base pay is determined by duty assignment and rank rather than by rank alone. All officers receive longevity pay and pilots are given several additional allowances. Pilots receive a higher rate of flight pay for hours flown during adverse weather or at night. Enlisted ground crews receive only base pay. Air crews probably receive base pay plus small allowances.

The pilots receive better treatment than officers of the same rank in the KPAF or equivalent ranks in the other armed forces. In spite of the severe shortage of food within North Korea during the 1990s, pilots - although they do not receive a full ration - had priority for food in their units. Pilots' food rations in 2000 consisted of about 850 Calories per day. This is increased to 950 Calories during periods of flight training. On national holidays pilots also receive special rations, including buckwheat and beef. Pilots receive an extra- clothing allowance, although alcohol and cigarettes are strictly rationed. Pilots and support personnel assigned to overseas deployments live in sharp contrast to their companions at home, enjoying the use of cars, television, refrigerators and easy access to food and consumer goods. The morale among the KPAF pilots is high relative to their ground force.

From 1978 to 1995 General Jo Myong-rok was the commander of the air force. In October 1995 he was promoted to vice-marshal and appointed Chief of the KPA General Political Bureau and a member of the Korean Workers' Party Central Military Committee. His place as commander of the Air Force was taken by Colonel General Oh Gum-chol.

Training
In general, pilot education is conducted under a plan by which fighter pilots are trained by the type of aircraft they will fly, then assigned to units having that type of aircraft. Transport and helicopter pilot training follows a similar pattern. The KPAF's two primary schools are the Kim Ch'aek Air Force Academy located at Chongjin and the Kyongsong Flight Officers School. In addition to these, there are a number of smaller specialized schools and courses.

For example, during the mid 1990s the Kim Ch'aek Air Force Academy could not meet the demand for officers and so a short-term course was established at the KPAF headquarters located at Chunghwa-kun, Pyongyang-Si. It was a one year course for senior enlisted personnel which concentrated upon command and administration. Courses typically last four years. The majority of the cadets enrolled in the pilot training program are graduates of high schools or colleges and come from families with reliable political backgrounds (to reduce the risk of defection).

Annual flying hours
The number of annual flying hours (AFH) per pilot is, like almost every other aspect of the KPAF, very hard to estimate. Most sources on the subject abstain from giving hard numbers, but all of them estimate the average annual flying hours per pilot as being 'low' to 'very low'. The number of annual flying hours is of course very important in estimating the individual skill and experience of the pilots of an air force and the general rule of thumb is 'the more the merrier'. Most estimates present a rather grim picture: AFH per pilot for the KPAF are said to be only 7, 15 or 25 hours per pilot each year - comparable to the flying hours of air forces in ex-Soviet countries in the early 1990s. In comparison, most NATO fighter pilots fly at least 150 hours a year. Ground training, both in classrooms, on instructional airframes or in a flight simulator can only substitute for 'the real thing' to a certain degree, and the low number of modern jet trainers in the KPAF arsenal points to a very modest amount of flying time for the formation of new pilots.

There is a number of possible explanations for the low AFH: concern over the aging of equipment, scarcity of spare parts - especially for the older aircraft - difficulties with worn airframes, fear of defection and the scarcity of fuel are all contributing factors. It is very likely however that some 'elite' pilots and regiments receive considerably more flying hours. Especially those equipped with modern aircraft and tasked with homeland defence - like the 57th regiment flying MiG-29s and the 60th regiment flying MiG-23s - are receiving multiple times the average AFH per pilot; however, aging equipment, the scarcity of fuel and the general economic crisis in the DPRK will affect these regiments as well, and keep their AFH low compared to NATO AFH.

Structure

Following is a list of bases where North Korean Army Air Force aircraft are permanently based.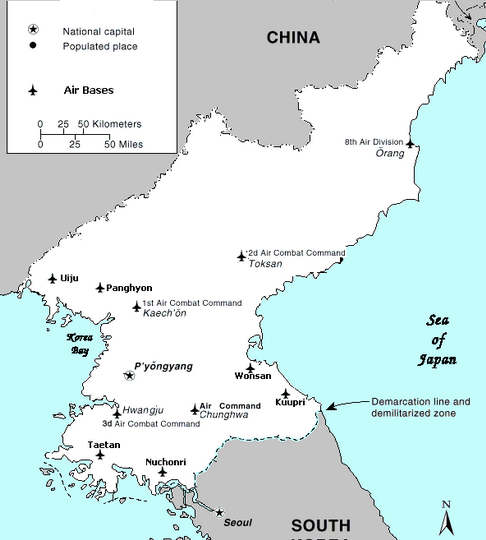 Air bases
Northwestern area
Uiju

24th Air Regiment - operating transport aircraft; although a recent Google Earth picture shows 32 examples of the Harbin H-5/Ilyushin Il-28 bomber, 15 fighter aircraft and underground storages.
Panghyon/Naamsi

Air Regiment - operating MiG-17F/J-5, F-5/FT-5;
Taechon

5th Air Transport Regiment, a Google Earth picture shows 54 AN-2 transports.
Kaech'on - Headquarters, 1st Air Combat Command. 35th Air Regiment (MiG-19/J-6). Fighter base with 2500 m runway. Google Earth confirms presence of 44 or 45 fighters, some of them are MiG-19 aircraft,
Pukch'ang - 60th Air Regiment (1 ACC) (MiG-23ML/MiG-23UB/MiG-15UTI); Air Transport Regiment (5 TD) (H500D/H500E/500D). This base was where most new Soviet fighter aircraft were delivered during the 1960s.
Samjangkol - Air Transport Regiment (6 TD) (Mi-2).
Sunchon - 55th Air Regiment (1 ACC) (Su-25K/Su-25UBK/Su-7BMK) (MiG-29 suspected). The Google Earth imagery shows what appear to be J-6's and Su-25's parked. Also visible are J-2s and possibly MiG-29s. Runway length is 2500 m, around 41 airplanes are visible in Google Earth.
Kanch'on - Air Transport Regiment (6 TD) (Mi-4/Z-5/Mi-8/Mi-17/Mi-2).

West Coast and Pyongyang area
Onchon -

57th Air Regiment (1 ACC) (MiG-19/J-6/MiG-29/MiG-29UB).
Hwangju - Headquarters, 3rd Air Combat Command. 56th Air Regiment (3 ACC) (MiG-21U/MiG-21PF/J-7).
Kwail/Pungchon - 4th Air Regiment (3 ACC) (F-6/FT-5/MiG-19) (MiG-17/J-5 suspected) Google Earth show possibly 9 aircraft and underground storages. (38°25'00?N 125°01'00?E? / ?38.4166667°N 125.0166667°E? / 38.4166667; 125.0166667)
Taetan - Air Regiment (3 ACC) (F-5/FT-5/H-5). Google Earth imagery shows what appears to be two entrances to an underground storage area to the south-west of the airfield joined by taxiways.
Pyongyang Sunan International Airport - Air Transport Regiment (Air Koryo) (Tu-134B/Tu-154B/Il-62/Il-76MD/Il-14/Il-18/An-24).
Mirim - This airfield served as a light transport base and closed sometime in the 1990s.

DMZ area
Chunghwa -

Headquarters, Air Command.
Koksan - 86th Air Regiment (3 ACC) (MiG-21PF/MiG-21U) (Q-5) (J-7 suspected).
Hyon-ni - Air Regiment (F-5/FT-5).

East Coast area
Toksan -

Headquarters, 2nd Air Combat Command. Air Regiment (2 ACC) (MiG-21PF/J-7/F-7).
Sondok - Air Transport Regiment (Y-5/An-2/Li-2). Google Earth imagery shows what looks like an old, unused runway to the south-east of the airfield and nine Li-2 (the Russian copy of C-47 Dakota).
Kowon - Air Transport Regiment (6 TD) (Z-5/Mi-4/Mi-8/Mi-17).
Pakhon - Air Transport Regiment (6 TD) (Z-5/Mi-4/Mi-8/Mi-17/Mi-2).
Wonsan - Air Regiment (2 ACC) (F-6/FT-5) (about 30 MiG-19/J-6 suspected), Google Earth picture shows 18 fighters.

Far Northeast area
Samjiyon -

Training Regiment (8 AD) (MiG-15UTI) (J-2/MiG-15 suspected).
Hyesan - Training Regiment (8 AD) (An-2/Y-5).
Hwangsuwon-ni - 72nd Air Regiment (2 ACC) (A-5/FT-5) (MiG-19/J-6 suspected).
Kilchu - Training Regiment (8 AD) (Mi-2).
Orang - Headquarters, 8th Air Division. Training Regiment (8 AD) (MiG-15UTI/J-2/MiG-15). Air Regiment (H-5).
Changjin-up - Training Regiment (8 AD) (CJ-6) (Yak-18 suspected).