QF - 16
Planes > Specials
The USAF has a so-called 'drone' program for decades. This first started in the 1960's when 24 F-104 Starfighters were converted into QF-104 drones and consequently shot down for training purposes. This program lasted until 1972 when the final QF-104 was shot down. In 1973 conversion shifted to the QF-102 which lasted until 1982 with over 200 F-102's being converted. The last of the QF-102's was expended in 1986. On its turn this was replaced by the QF-100 of which 209 airframes were converted. This program started in 1981 and the last QF-100 was shot down in 1992. By that time this airframe was already replaced by the QF-106 of which a total of 194 were converted from 1990 onwards. This program ended in 1998 being replaced by the QF-4 program which started in 1997 and saw a total of 238 airframes being converted. The last of which will be phased-out in 2014.
The USAF had to start searching for a replacement. A number of things have to be taken into account when choosing such an airframe. First of all sufficient numbers have to be available for conversion. Secondly the USAF wanted an upgraded platform since the QF-4 is a third generation fighter with some limitations to provide a real modern fighting asset to training units. The new airframe needed to be a fourth generation airframe. Combining these two prerequisites automatically pointed at the F-16 to be a pheasable platform for such a conversion.
In 2010 Boeing was awared the contract to start initial work on converting the first six F-16s into aerial targets. These 6 airframes will act as testing platform. It is a mix of block 15/25/30 airframes to show the pheasibility of the modifications on these blocks.
Conversion
When the F-16s arrive at Boeing's facility, they are stripped down to remove unneeded parts, including the fighter's Vulcan six-barrel 20mm cannon and the APG-66/68 radar. Because the USAF requires that the QF-16 be able to fly in both manned and unmanned modes, Boeing will modify the flight control system, working in a teaming arrangement with BAE, the original equipment manufacturer for the F-16 flight control system.
Other modifications to the F-16 include installation of a flight termination system that can destroy the drone if it goes out of control, command telemetry systems so the drone can be controlled from the ground and a scoring system to gauge the accuracy of air-to-air missiles fired at the drone. Besides this some more infrastructural works need to be done on the ground to fly these airframes unmanned.
Production
An initial 6 airframes (2 block 15s, 2 block 25s and 2 block 30s) - (#82-0986, #83-0110, #84-1260, #84-1295, #85-1569 and #85-1570) are being converted by Boeing as test airframes. Once this pre-EMD phase has been ended and all conversion work has been approved, Boeing will start conversion on another 120 airframes. This production will be divided into a first LRIP lot 1 containing 20 airframes and then four FRP lots containing 25 airframes each running until 2019.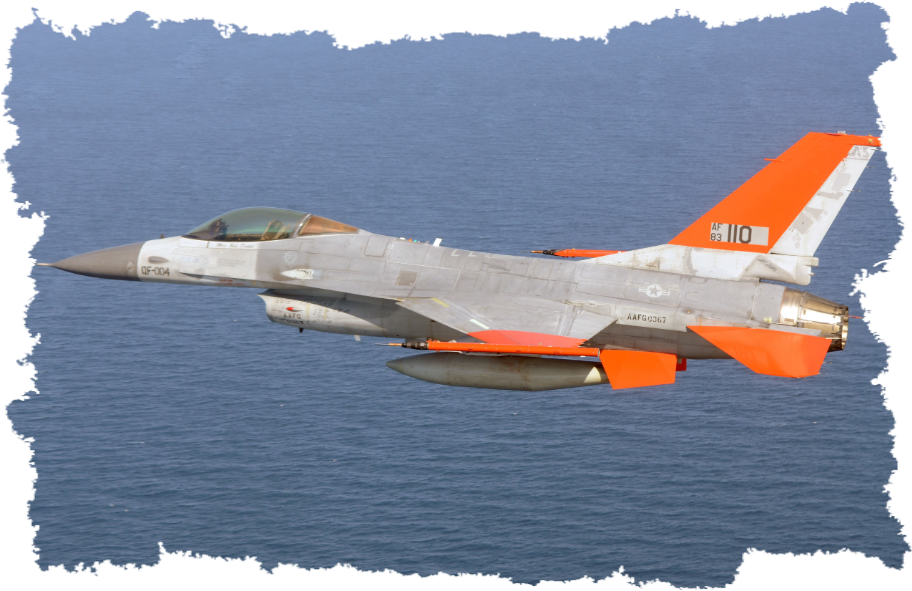 A modified F-16 took flight from Tindall Air Force Base in Florida without a pilot so it could be blown to smithereens. The Boeing retrofit of retired Lockheed Martin F-16s will be used as target practice for training situations under the name QF-16.
"The QF-16 full-scale aerial targets will be used to test newly developed weapons and train pilots for the rapidly changing nature of warfare in a safe and controlled environment," said Boeing in a statement.
"It was a little different to see an F-16 take off without anyone in it, but it was a great flight all the way around," said Lt. Col. Ryan Inman, Commander, 82nd Aerial Targets Squadron. "It's a replication of current, real world situations and aircraft platforms they can shoot as a target. Now we have a mission capable, highly sustainable full scale aerial target to take us into the future."
During the test, a pair of QF-16s aced taking off and landing on its own, as well as performing a series of simulated maneuvers. It also flew at 40,000 feet and broke the sound barrier at Mach 1.47.
Some are concerned about the potential for the Air Force to move the QF-16 from a training and testing vehicle to their use in warfare.
"I'm very concerned these could be used to target people on the ground," Noel Sharkey from the Campaign to Stop Killer Robots told the BBC. "I'm particularly worried about the high speed at which they can travel because they might not be able to distinguish their targets very clearly."
But converting retired aircraft for the purpose of training and weapon testing is a move the Air Force has had success with in the past when they converted Vietnam-era F-4 Phantom fighters to pilotless aircraft for target practice.