EMBRAER KC-390
Planes > transport
The Embraer KC-390 is a medium-size, twin-engine jet-powered military transport aircraft under development by Brazilian aerospace manufacturer Embraer. It is able to perform aerial refueling, transport cargo and troops, and to receive fuel in-flight. It will be the heaviest aircraft that the company has made, and will be able to transport up to 23 tons of cargo, including wheeled armored vehicles.

Design and development
In 2006, Embraer began studies on a military tactical transport design of a similar size to the Lockheed C-130 Hercules. In April 2007, Embraer reported it was studying a medium-size airlifter, with the company designation "C-390". The transport aircraft is to incorporate many of the technological solutions from the Embraer E-Jets series. It will feature a rear ramp for loading and unloading a wide range of cargo. The unit price is estimated to be
around US$50 million, while the competition sells similar models, such as the C-130J for up to $62 million.
The vice president of Embraer, Luis Carlos Aguilar, said that according to their estimates, some 695 military transport aircraft in the world will need to be replaced during the next decade, and that there is potential market for this kind of plane.] Potential power plant options have been studied in the 75.6 to 98 kN (17,000–22,000 lb.) thrust range, including engines such as Pratt & Whitney's PW6000 and Rolls-Royce's BR715.
In early March 2008, the Brazilian Government planned to invest about R$60 million (or US$33 M) in initial development of the aircraft. At the same time, the Brazilian Air Force was finalizing the purchase contract that probably will buy 22 to 30 aircraft in the first order. Embraer is talking with the possible partners. In May 2008, the Brazilian Congress released 800 million Reais (US$440 M) to be invested in the project and development of the aircraft. The media also claimed that this aircraft is not only going to be used by the Brazilian Air Force, but also for Brazilian Army and Brazilian Navy, but still not confirmed for government agencies.
On 14 April 2009, Embraer was awarded with a $1.5 billion contract to develop and build 2 prototypes. In March 2010, Embraer drew up a development schedule, with the first prototype aircraft scheduled to be delivered in late 2014.
In July 2010, during the Farnborough Airshow, the Brazilian Air Force announced it will order 28 KC-390s. During the show, Embraer announced an increase in the cargo capacity to 23 tons and that first flight is planned for 2014. In 2010, National Aerospace Laboratory (NLR) designed and built a large high-grade aluminum alloy wind tunnel model for the KC-390, focused on its aerodynamic features during takeoff and landing.
During 2011 Paris Air Show, Embraer announced plans to launch a stretch version of the KC-390 focused on the civil cargo market in 2018, with 200-250 predicted orders over a 10-year period. Two plugs will be added before and after of the center section to lengthen the fuselage from the current 33.91 m (111.3 ft.), not only increasing internal capacity, but also providing for a side cargo door.
In June 2012, Boeing and Embraer agreed to co-operate with technical know-how to spur development of the aircraft. The companies are to exchange technical and market information, and possibly team up for commercial opportunities. The KC-390 collaboration is part of a broader agreement that Boeing and Embraer signed in April of the same year.

Partnerships and manufacturing
In August 2010, Argentine Defense Minister Nilda Garré announced that Argentina will participate on the construction of the C-390. On 24 August 2010 the defense ministers of Chile and Brazil signed an agreement for Chile's ENAER Company to join KC-390 industry team. Colombia also signed an agreement to join the KC-390 programme. On 10 September 2010 Portugal defense minister signed an intentions letter in order to join the programme.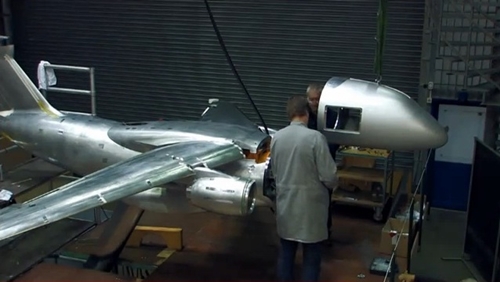 On 14 December 2011, Embraer announced that Brazil and Portugal have signed an agreement for defense partnership contract, through EEA, will develop the engineering project for the KC-390's components, which will be manufactured by Embraer subsidiary OGMA.
In September 2010, it was reported that the Czech company Aero Vodochody might manufacture some parts for the KC-390. In April 2011 Aero Vodochody was selected to build the rear fuselage section, crew and parachute doors, emergency doors and hatches, cargo ramp and fixed leading edge.
In October 2010, Embraer announced negotiations for the involvement in the KC-390 manufacturing of Argentina's Fabrica Argentina de Aviones (FAdeA) which will also provide parts for Embraer's commercial jets. In April 2011, an agreement between Embraer and FAdeA was signed to manufacture the spoilers, nose landing gear doors, ramp door, flap fairings, tail cone, and electronic cabinet at Cordoba, Argentina. The first parts will be delivered in July 2013.
On 22 March 2011, DRS Defense Solutions was selected to deliver the tanker/transport's cargo handling and aerial delivery system. On 7 April, the Brazilian company ELEB (a wholly owned subsidiary of Embraer), was chosen to design and manufacture the landing gear.
On 5 May 2011, Embraer stated that it had selected Rockwell Collins to provide its Pro Line Fusion Avionics System with Liquid Crystal Displays, Integrated Flight Information Systems (IFIS) with electronic charts and enhanced maps, advanced Flight Management Systems (FMS) with Wide Area Augmentation System, and an Information Management System (IMS) to manage databases and facilitate data transfer with the ground infrastructure. On 27 March 2012, Rockwell Collins announced that it will be providing DF-430 Direction Finder and HF-9000 high frequency radios to the aircraft.
On 21 June 2011, Embraer announced it had selected Esterline Technologies Corporation to supply the autothrottle system.] On 5 January 2012, Esterline issued a press release stating that it has been selected by Embraer to design and manufacture the rudder pedal stations, flap selectors; speed brake LRUs, landing gear levers, wheel tiller, and autobrake switch control panels for the aircraft.
On 23 June 2011, Messier-Bugatti-Dowty (Safran group) have been selected to supply the wheels, carbon brakes, braking control system, landing gear extension and retraction system, and nose wheel steering manifold.
On 15 July 2011, Embraer selected Liebherr-Aerospace to provide the environmental and cabin pressure control system.
On 26 July 2011, Embraer announced its selection of BAE Systems to provide hardware, embedded software, system design and integration support of the flight control electronics. BAE will perform software, hardware, and system design and support integration of the flight control electronics on the aircraft. On 3 April 2012, BAE Systems announced it had been chosen to provide active side sticks as part of the overall cockpit controls.
On 27 July 2011, Goodrich Corporation announced it has been awarded with a contract to design and produce a fully integrated, fly-by wire, primary flight control system comprising electro-hydrostatic actuators (EHAs), electro-backup hydrostatic actuators (EBHAs), actuator electronics and electrical controls. On 7 May 2012, Goodrich announced it had been selected to provide additional components for the aircraft, including air data system, ice detector, windshield ice protection controller, and the fuel quantity gauging and control system.
In July 2011, Embraer announced it had chosen the IAE V2500-E5 turbofan engine for the KC-390.
On 8 September 2011, Embraer Defense and Security has chosen SELEX Galileo's Gabbiano Tactical radar, model T-20. Which is based on Modular Radar Processor (MRP) technology and employs a transmitter that uses SSA (Solid State Amplifier) technology. The multi-mode radar combines: GMTI mode to provide moving target locations overlaid on a digital map; Strip SAR mode to map wide swath areas; Spot SAR mode to produces a high resolution image at a specific geographic patch; ISAR mode to classify moving targets on maritime patrol missions; SART mode for emergency.
On 8 September 2011, Embraer announced that Elbit System's Brazilian subsidiary AEL Sistemas has been chosen to supply the mission computer. On 26 October 2011, Elbit Systems announced that its subsidiary AEL have been awarded with an additional $25 million contract to develop the Self-Protection Suite (SPS), the Directional Infrared Countermeasures (DIRCM) and the pilot orientation Head-Up Display (HUD) for the aircraft.
On 11 September Embraer chose Fischer + Entwicklungen to design and build the crew seats for the KC-390.
On 14 November 2011, Embraer has provided Hispano-Suiza (Safran group) with a contract to supply electrical power distribution systems, which includes: Primary Electrical Power Distribution System (PEPDS), Secondary Power Distribution System (SPDS) and Electrical Power System (EPS).
On 28 October 2011, LMI Aerospace of the United States announced it was awarded with a $44 million contract to design and build the complete wing slat system. Embraer would be funding the engineering, testing and tooling with milestone payments throughout the development process. Later, LMI teamed up with ASCO to design and manufacture the slat track mechanisms for the aircraft.
On 5 December 2011, Eaton Corporation announced it will design, develop and supply airframe fuel system components for the KC-390. In April 2012, Embraer Defense and Security chose Eaton Corporation to supply the on-board inert gas generation system.
On 7 December 2011, Cobham plc announced in a news release that it has been chosen to supply refuelling receiver probes for the aircraft.
On 14 December 2011, Hamilton Sundstrand announced it has been chosen to supply the Electric Power Generating System for the aircraft. On 19 January 2012, Hamilton Sundstrand has been chosen to supply the Auxiliary Power Unit (APU).
On 14 December 2011, OGMA and Embraer sign partnership agreement, OGMA will produce: central fuselage panels, elevators, fairings and landing-gear doors, and will support Embraer during the certification phase.
On 11 January 2012, It was announced by ACSS, a The joint venture of L-3 Communications and Thales that the company was selected to provide its T3CAS traffic management computer as the standard surveillance avionics suite to provide integrated Traffic Alert & Collision Avoidance System (TCAS) and Mode S Transponder.
On 20 January 2012, it was announced that Embraer has chosen Sagem's (Safran group) actuator system for the horizontal stabilizer trim system (HSTS).
On 4 May 2012, Thales Group has announced that it has been awarded a contract to provide Inertial Navigation System (INS) and the GPS of the KC-390. The aircraft will be equipped with Thales HPIRS (High Performance Inertial Reference System).
On 9 June 2012, L-3 Avionics Systems was selected to supply its GH-3900 Electronic Standby Instrument System (ESIS), FA5001 cockpit voice and data recorder and Micro Quick Access Recorder.
On 2 August 2012 Eaton Corporation announced it would supply engine-driven hydraulic pumps and AC motorpumps for the KC-390 in a contract valued at $41 million.
On 20 August 2012, Honeywell Aerospace announced that it has signed a contract with Embraer to provide its eNfusion AMT-3800 Inmarsat High-Gain Antenna system on Embraer's upcoming KC-390 military transport aircraft for multiple customers including the Brazilian Air Force. The antenna will provide the KC-390 with voice and data communications capabilities using the Inmarsat network to deliver advanced data link features for Communication Navigation Surveillance (CNS) and Air Traffic Management (ATM). By using the network, data can be sent and received "real time," enabling a continuous stream of communications to help flight crews maximize operations both on the ground and in the air.
On 11 September 2012, Northrop Grumman announced that it has signed a contract with Embraer to supply the hybrid global positioning system (GPS) and inertial reference system for the KC-390. Under the contract, the company's German navigation systems subsidiary, Northrop Grumman LITEF, will provide the fibre-optic, gyro-compass LCR-100 Attitude and Heading Reference System.
On 19 December 2012, Astronics Corporation announced that it had been selected to supply exterior lighting systems for the KC-390.

Operational history
Orders and potential customer evaluations
It was reported in 2007 that the Brazilian postal service Correios was interested in buying at least 5 and eventually 20 to 25 of the aircraft, in lieu of using commercial freight service for mail transport. On 19 May 2011, it was stated that Correioslog will buy around 15 aircraft for civil use.

In September 2008, the Portuguese Air Force chief-of-staff, being interviewed for a national aviation newspaper Take Off revealed a service interest in the airplane as a possible C-130 fleet replacement, although this interest was outlined as the PoAF being closely monitoring the C-390 development, with a possible order in the future. In February 2010, a further notice reports that Embraer proposed to the Ministry of Defense the acquisition of KC-390 to substitute the ageing C-130 of the Portuguese Air Force. In December 2011 it was announced that the Portuguese government will sign an 87 million euro contract with Embraer for part of the production of the KC-390.
On 7 September 2009, it was announced that France was interested in buying 10 KC-390s as part of negotiations for Brazil to buy the DassaultRafale.
On 2 October 2009, Sweden declared its intention to evaluate the KC-390 transport aircraft for long term tactical air transport needs connected to its F-X2 offer on JAS 39 Gripen.
In July 2010, Brazilian Air Force announced it intend to buy 28 aircraft.
In August 2010, it was announced that the Chilean Air Force plans to order six KC-390s. It was reported in September 2010 that Colombia intends to order 12 KC-390s. Later on that month, it was also reported that Czech Republic air force might acquire two KC-390s.
In October 2010, Embraer announced the future acquisition of six KC-390s by the Argentine Air Force. It was reported that Brazil and the UAE were negotiating an agreement for military cooperation, which would involve sales of KC-390 in late October.
On 14 February 2012, Brazilian Defense Minister announced that Peru is interested in potentially acquiring an undisclosed number of KC-390s.
April 2013, Six countries have signed commitments totaling 60 of the twinjets: Argentina (6), Brazil (28), Chile (6), Colombia (12), the Czech Republic (2) and Portugal (6).
June 2013, Embraer and Boeing sign an agreement to market the KC-390 in limited international venues, building on the June 26/12 MoU. Boeing will be the lead for KC-390 sales, sustainment and training opportunities in the USA, UK and selected Middle East markets.

Argentina joins manufacturing of Brazil's KC 390 jet powered military transport



Brazil and Argentina aircraft industries have signed a partnership contract for the manufacturing of the Embraer KC 390, a medium sized twin engine jet powered military transport aircraft with a 23 tons capacity.
The contract was signed in Rio do Janeiro by Embraer Defence and Security Department and Argentina's Fabrica Argentina de Aviones, FAdeA. Under the agreement FAdeA will manufacture the spoilers (plates on the top surface of a wing for controlling wing lift), doors for the nose landing gear, ramp door, flap fairings, tail cone, and electronic cabinet.
"FAdeA's participation in the KC-390 program strengthens the cooperation between the defence technological and industrial bases of both countries, strictly in line with Brazil's National Defence Strategy", said Luiz Carlos Aguiar, President of Embraer Defence and Security.
The agreement follows on from the Declaration of Intent signed by the Brazilian and Argentine Ministries of Defence in October 2010, which reinforces the commitment of the Argentine government to acquire six KC-390 aircraft.

Operators
Brazilian Air Force ordered 28 KC-390.
Argentinian Air Forceordered 6.
Chilenean Air Force ordered 6.
ColombianAir Force ordered 12.
Portuguese Air Force ordered 6.
Czech Republic Air Force ordered 2.

General characteristics
Crew: 2
Capacity:
80 passengers or
64 airborne troops or
6 pallets (68" X 108") or
74 litter patients with 2 medical personnel or
2-3 HMMWV and Marrua or an Astros II or a LAV III and VBTP-MR Guarani
Cargo compartment: Length 17.75 m X width 3.45 m X height 2.9 m
Payload: 23.6 tons (52,029 lb)
Length: 33.91 m (111.3 ft)
Wingspan: 35.06 m (115 ft)
Height: 10.26 m (33.8 ft)
Loaded weight: 74.0 tons (163,142 lb)
Max. takeoff weight: 81.0 tons (178,574 lb)
Powerplant: 2 × IAE V2500-E5 turbofan, 120-129 kN (27,000-29,000 lbf) each
Fuel capacity: 37.4 tons (74,800 lb, 33,929 kg)

Performance
Maximum speed: Mach 0.8 (300 KCAS, 850 km/h)
Range: 2,600 nmi (4,815 km, 2,992 mi)(with 13,335 kilograms (29,399 lb) payload)
Range with full payload: 1,400 nmi (2,593 km, 1,611 mi)
Ferry range: 3,250 nmi (6,019 km, 3,740 mi)
Service ceiling: 36,000 ft (10,973 m)