Thailand Aircraft Carrier
Aircraft Carriers
CHAKRI NARUEBET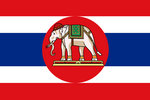 HTMS Chakri Naruebet ("In honour of the Chakri Dynasty") is the flagship of the Royal Thai Navy (RTN), and Thailand's first and only aircraft carrier. Based on the Spanish Navy's Principe de Asturias-class design and constructed by Spanish shipbuilder Bazán, Chakri Naruebet was ordered in 1992, launched in 1996, and commissioned into the RTN in 1997.

The carrier is equipped with an air group of V/STOL aircraft and helicopters, and was intended for patrols and force projection in Thai waters, disaster relief, and amphibious warfare support. However, a lack of funding brought on by the 1997 Asian Financial Crisis means that the carrier has spent much of her career docked at the Sattahip naval base. The carrier has been deployed on several disaster relief operations, although her other departures from port consist primarily of a single training day per month, and transportation of the Royal Family of Thailand, leading to claims that the ship is merely an oversized royal yacht.

Design

When Typhoon Gay hit Thailand in 1989, the Royal Thai Navy, as the main unit responsible for search and rescue missions, found that its ships and aircraft were unable to withstand the rough weather at sea. Moreover, the Royal Thai Navy needed a new, high-technology ship to modernize its fleet.

The original plan was to acquire a 7,800 ton vessel from Bremer Vulcan, but the Thai government cancelled the contract on 22 July 1991. A new contract for a larger warship to be constructed at Bazán's shipyard in Ferrol, Spain, and was signed by the Thai and Spanish governments on 27 March 1992. The proposed vessel was based on the design of the Spanish Navy aircraft carrier Principe de Asturias, which in turn was based on the United States Navy's Sea Control Ship concept.
Chakri Naruebet is the smallest aircraft carrier in operation in the world. She displaces 11,486 tons at full load. The carrier is 164.1 metres (538 ft) long between perpendiculars, and 182.65 metres (599.2 ft) overall. She is 22.5 metres (74 ft) wide at the waterline, with a maximum beam of 30.5 metres (100 ft), and a draught of 6.12 metres (20.1 ft). The warship has a ship's company of 62 officers, 393 sailors, and 146 aircrew. Up to 675 personnel can be transported; commonly soldiers of the Royal Thai Marine Corps.

Construction

Work on the Thai carrier commenced in October 1993, although it was not until 12 July 1994 that the hull was laid down. Chakri Naruebet was launched on 20 January 1996 by Queen Sirikit.
Sea trials were conducted from October 1996 to January 1997, the latter part of which was in coordination with the Spanish Navy. This was followed by aviation trials at Rota, Spain. The carrier was handed over on 27 March 1997, when she was commissioned into the RTN. She arrived in Thai waters at the start of August 1997, and formally entered service on 10 August.

Chakri Naruebet cost US$336 million to build.

Chakri Naruebet is propelled by a combined diesel or gas (CODOG) system. Each of the two, five-bladed propellers is connected to a Bazán-MTU 16V1163 TB83 diesel engine (providing 5,600 brake horsepower (4,200 kW), used for cruising speed), and a General Electric LM2500 gas turbine (providing 22,125 shaft horsepower (16,499 kW), used to reach top speed for short periods). Chakri Naruebet has a maximum speed of 25.5 knots (47.2 km/h; 29.3 mph), although she can only reach 17.2 knots (31.9 km/h; 19.8 mph) with the diesels alone. She has a maximum range of 10,000 nautical miles (19,000 km; 12,000 mi) with a constant speed of 12 knots (22 km/h; 14 mph), and 7,150 nautical miles (13,240 km; 8,230 mi) at 16.5 knots (30.6 km/h; 19.0 mph).

Armament and aircraft

Chakri Naruebet is fitted with two 0.5-inch machine guns, and three Matra Sadral sextuple surface-to-air missile launchers firing Mistral missiles. The missile launchers were installed in 2001. The vessel is also fitted for but not with an 8-cell Mark 41 Vertical launch system for Sea Sparrow missiles, and four Phalanx close-in weapon systems.

The carrier's standard air group consists of six to eight AV-8S Matador V/STOL aircraft (an export version of the Harrier acquired secondhand from the Spanish Navy) and four to six S-70B Seahawk helicopters. By 1999, only one Matador was operable. Chakri Naruebet is also capable of carrying up to fourteen additional helicopters; a mix of Sikorsky Sea King, Sikorsky S-76, and CH-47 Chinook. There is only enough hangar space for ten aircraft.
The flight deck measures 174.6 by 27.5 metres (573 by 90 ft). A 12° ski-jump is fitted to assist the Matadors in taking off. There are two aircraft lifts, each capable of lifting 20 tons.

Sensors and countermeasuresThe sensor suite of Chakri Narebet consists of a Hughes SPS-52C air search radar operating on the E/F band, and two Kelvin-Hughes 1007 navigational radars. There are provisions to install an SPS-64 surface search radar and a hull-mounted sonar, but neither has been fitted as of 2008. Fire control facilities are also yet to be fitted.
The carrier is equipped with four SBROC decoy launchers, and an SLQ-25 towed decoy.

CHARACTERISTICS
Type: V/STOL carrier
Displacement: 11,486 tons full load
Length:
182.65 metres (599.2 ft) (overall)
174.1 metres (571 ft) (flight deck)
164.1 metres (538 ft) (between perpendiculars)
Beam: 22.5 metres (74 ft) (waterline)
30.5 metres (100 ft) maximum
Draught: 6.12 metres (20.1 ft)
Propulsion:
2 x GE LM2500 gas turbines providing 22,125 shaft horsepower (16,499 kW)
2 x Bazán-MTU 16V1163 TB83 diesel engines providing 5,600 brake horsepower (4,200 kW)
2 x shafts with 5-bladed propellers

Speed: 25.5 knots (47.2 km/h; 29.3 mph) (maximum)
17.2 knots (31.9 km/h; 19.8 mph) (cruising)

Range: 10,000 nautical miles (19,000 km; 12,000 mi) at 12 knots (22 km/h; 14 mph)
7,150 nautical miles (13,240 km; 8,230 mi) at 16.5 knots (30.6 km/h; 19.0 mph)

Troops: Up to 675 soldiers
Complement: 62 officers
393 sailors
146 aircrew

Sensors and processing systems:
Hughes SPS-52C air search radar, E/F band
2 x Kelvin-Hughes 1007 navigational radars

Electronic warfare and decoys: Decoys:
4 x SBROC decoy launchers
SLQ-32 towed decoy

Armament:
2 x 0.5-inch machine guns
3 x dual Mistral surface-to-air missile launchers

Aircraft carried:
6-8 AV-8S Matadors
4-6 S-70B Seahawks
Up to 14 additional helicopters when required

Aviation facilities: 174.6-by-27.5-metre (573 by 90 ft) flight deck 12° ski-jump
Hangar space for 10 aircraft