Indian Aircraft Carriers
Aircraft Carriers
INS VIKRAMADITYA

INS Vikramaditya (Sanskrit, Vikramāditya meaning "Brave as the Sun") is a modified Kiev-class aircraft carrier which entered into service with the Indian Navy in 2013. The ship has been renamed in honour of Vikramaditya, a legendary 1st century BC emperor of Ujjain, India.
Originally built as Baku and commissioned in 1987, the carrier served with the Soviet (until the dissolution of the Soviet Union) and Russian Navies before being decommissioned in 1996 as she was too expensive to operate on a post-Cold War budget. The carrier was purchased by India on 20 January 2004 after years of negotiations at a final price of $2.35 billion. The ship successfully completed her sea trials in July 2013 and aviation trials in September 2013. She was formally commissioned on 16 November 2013 at a ceremony held at Severodvinsk, Russia.

The ship is operated in a STOBAR configuration, with a 14.3° bow ski-jump ramp and three arrestor wires on the stern of the angled deck. The ship can carry more than 30 aircraft, with an air wing composed of MiG-29K/Sea Harrier fixed wing aircraft and Kamov-31, Kamov-28, Sea King, ALH-Dhruv and Chetak helicopters. The maximum take-off length for the MiG-29K on the carrier is between 160–180 meters. The MiG-29K swing role fighter is the main offensive platform. It has a range of over 700 nautical miles (nm), which can be extended to over 1,900 nm with aerial refueling; and its weapons include anti-ship missiles, beyond-visual-range missiles, guided bombs and rockets.
The superstructure profile of the Admiral Gorshkov platform can accommodate powerful planar or phased array radar systems with the "billboard style" antennae, which was first observed on the United States Navy's USS Long Beach, along with extensive command and control facilities to conduct an aerial campaign. An extensive revamp of sensors was carried out, and long range air-surveillance radars and advanced electronic warfare suites were fitted. These enable the maintenance of a surveillance bubble of over 500 kms around the ship. The ship does not have a close in weapon system (CIWS), which will be added during its first scheduled refit. By 2017, the carrier will be armed with the Barak 8 air-defense missile system, which has a 6-70 km strike range.
The hull design is based on the Admiral Gorshkov launched in 1982, but it will be larger with a full load displacement. The conversion plans for the aircraft carrier involved all the armament, including the P-500 Bazalt cruise missile launchers and the four Antey Kinzhal surface-to-air missile launchers fitted on the front, to be removed to make way for a 14.3º bow ski-jump. Two restraining stands were fitted, allowing combat aircraft to reach full power before making a ski jump-assisted short take-off, but the carrier can launch only one aircraft at a time. Under the modernization plan, the 20-ton capacity elevator beside the ship's island superstructure was unchanged, but the aft lift was enlarged and its lift capacity increased to 30 tons. Three arresting gears were fitted on the aft part of the angled deck. Navigation and carrier-landing aids were added to support fixed-wing "short take-off but arrested recovery" (STOBAR) operations including the LAK optical-landing system.
The eight boilers were removed and converted to take diesel fuel utilizing LSHSD instead of furnace fuel oil, each providing a steam capacity of 100 tonnes per hour. Modern oil-water separators as well as a sewage treatment plant were incorporated to meet international standards. Six new Italian Wärtsilä 1.5 MW diesel generators, a Global Marine communications system, Sperry Bridgemaster navigation radar, a new telephone exchange, new data link and an IFF Mk XI system were added. It has improved hotel services with new water-producing plants as well as York International refrigeration and air conditioning, and a new galley together with improved domestic services and accommodation for 10 female officers.
The combat systems on-board the carrier are controlled by LESORUB-E, the computer-aided action information system. It gathers data from the ship's sensors and data links and creates comprehensive situation awareness. The CCS MK II communication complex is installed for external communications and the Link II tactical data system enables integration into the Indian Navy's network-centric operations. Modern launch and recovery systems are installed for handling different aircraft - the LUNA landing system for Mig-29Ks and the DAPS Landing system for Sea Harriers. The Resistor-E automated air-traffic control system has been installed, which provides assistance during approach, landing and short range navigation down to a distance of 30 meters short of flight deck to the pilots. Along with various other sub-systems, it provides navigation and flight data to ship-borne aircraft operating at long distances from the carrier.
The official expected life span of the ship is 40 years, and is unlikely to require any major repair work for at least a decade. On completion of the modernization, over 70% of the ship and her equipment will be new and the remainder will have been refurbished. Sevmash Shipyard, which upgraded the carrier, will provide warranty servicing including maintenance for the next 20 years.

First sea trials
Russia was scheduled to hand over Vikramaditya to India on 4 December 2012, with sea trials scheduled to begin on 29 May 2012. The sea trials in fact began on 8 June. The ship sailed out for pre-delivery trials from the berth of the Sevmash shipyard in Russia's northern city of Severodvinsk. These trials were to include landing and take-off of fighter jets from the deck of the carrier.
On 17 September 2012, malfunctions were detected during trials. According to official report, seven out of eight steam boilers of the propulsion machinery were out of order. Because of this, the deadline of the hand over this ship to the Indian Navy was postponed again until October 2013. Later investigation has determined that the cause for the engine failure was due to poor workmanship and supervision. The Gorshkov and other ships of the 1143.4 class had a history of multiple boiler failures, however Russian shipbuilders claimed that the source of the problem was the low-grade Chinese-made firebricks that were used in the boiler insulation instead of asbestos.

Second sea trials
On 3 July 2013, Igor Sevastyanov, deputy head of Russia's state arms exporter Rosoboronexport, announced that the warship had departed for sea trials with a mix of Russian and Indian crew.On 28 July 2013, it was reported that Vikramaditya had successfully completed her sea trials and was able to reach her maximum speed of 32 knots. She then proceeded to the White Sea for aviation trials, which were carried out by Russia's Northern Fleet aviation and completed in September 2013. Aircraft and helicopters flew around and over the ship to check the performance of its radar, air defense, communication and control systems, and MiG specialists praised the ski-jump ramp.
The sea trials lasted three months, and the ship demonstrated excellent seaworthiness and maneuverability. In total, the ship sailed for 19,500 miles during both the trials, and 778 flights were performed from its deck by aircraft and helicopters. During the second sea trial, it sailed for 8,600 miles, of which 1,700 miles were under the command of the ship's Indian captain Commodore Suraj Berry.
Surveillance by NATO
When the trials were ongoing, a Norwegian P-3 Orion aircraft observed Vikramaditya. While in international waters, it flew close to the ship to take photographs, and also dropped sonobuoys to record the ship's acoustic signature. The Norwegian aircraft left the area when a Russian Mig-29 arrived. A Norwegian ship was also seen to observe Vikramaditya.

Commissioning
She was formally commissioned on 16 November 2013 at a ceremony held at Severodvinsk, Russia. The ceremony was attended by Indian defense minister A.K. Antony and the Russian deputy prime minister Dmitry Rogozin. The ship is expected to begin patrolling the Indian ocean by early 2014.

Service history
After commissioning, the carrier began a continuous 26-day journey of 10,212 nautical miles to its homeport at INS Kadamba, Karwar, from Severodvinsk on 27 November 2013, with a short stopover in Lisbon. It is under the command of Commodore Suraj Berry, who is her first Indian captain. Apart from her Indian crew, she also carried 177 Russian specialists from Sevmash, who will remain on board for one year, as part of the 20-year post-warranty services contract with the shipyard. During the journey, it encountered a storm in the Barents Sea where she linked up with her escorts frigate INS Trikand and fleet tanker INS Deepak. The group was escorted by the Royal Navy frigate Monmouth while passing through the English Channel, and was joined by destroyer INS Delhi near Gibraltar.
The flotilla sailed in the Mediterranean sea, crossed the Suez Canal and entered the Arabian Sea near the Gulf of Aden on 1 January 2014. It was received nearly 1,200 nautical miles (2,200 km) away from Indian shores by a large flotilla of the Western fleet, which was composed of the aircraft carrier INS Viraat, two Delhi-class destroyers including INS Mumbai, three Talwar-class frigates, the frigate INS Godavari, and a couple of offshore patrol vessels including INS Subhadra. The event was significant as the Indian Navy was operating two aircraft carriers simultaneously for the first time in 20 years. After conducting basic sea exercises with the fleet, it reached Karwar on 7 January 2014.
Navy pilots of INAS 303 "Black Panthers" operating the MiG-29K practiced carrier operations at the Shore Based Test Facility (SBTF) in INS Hansa, Panaji. The first aircraft piloted by an Indian Navy pilot landed on the carrier on 8 February 2014. Since then, the pilots and air controllers have been certified for operating the MiG-29K fighters from the carrier deck, including night landings. The carrier's air wing will consist of 16 MiG-29Ks including four KUB trainers, six airborne early warning and control (AEW&C) Kamov Ka-31 and Kamov Ka-28 anti-submarine warfare (ASW) helicopters.
In May 2014, the carrier was declared operationally deployed along with its embarked air group comprising Mig-29Ks and had taken part in a war game conducted by the Western Naval Command.

Name: INS Vikramaditya
Namesake: Vikramaditya
Builder: Black Sea Shipyard, Mykolayiv, Ukraine
Cost: $2.35 billion
Commissioned: 16 November 2013
Homeport: INS Kadamba, Karwar
Identification: Pennant number: R33
Status: in active service, as of 2014

General characteristics
Class & type: Modified Kiev-class aircraft carrier
Displacement: 45,400 tons of loaded displacement
Length: 283.5 meters (930 ft.) (overall)
Beam: 59.8 meters (196 ft.)
Draught: 10.2 meters (33 ft.)
Decks: 22
Installed power: 6 turbo alternators and 6 diesel alternators which generate 18 MWe
Propulsion: 8 turbopressurized boilers, 4 shafts, 4 geared steam turbines, 180,000 hp
Speed: in excess of 30 knots (56 km/h)
Range: 7,000 nautical miles (13,000 km) 13,500 nautical miles (25,000 km) at 18 knots (33 km/h)
Endurance: 45 days
Complement: 1,600 - 2,000
Sensors and Processing systems: Long range Air Surveillance Radars, LESORUB-E, Resistor-E radar complex, CCS MK II communication complex and Link II tactical data system
Armament:
AK-630 CIWS
Barak 8 (LRSAM)
Aircraft carried:
Maximum of 36 aircraft including:
30 × Mikoyan MiG-29K multi-role fighters
6 × Kamov Ka-31 AEW&C and Kamov Ka-28 ASW helicopters
Aviation facilities:
Two acre flight deck.
14 degree ski-jump ramp
Three 30 m wide arrester gears and three restraining gears.


ADS VIKRANT CLASS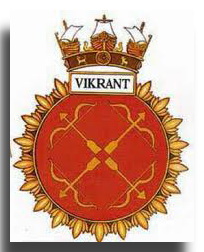 The Vikrant Class are the first indigenously designed and built aircraft carriers in India. Two aircraft carriers are being constructed for the Indian navy by Cochin Shipyard (CSL). The first ship in the series will replace the retired aircraft carrier, INS Virat.

The first steel was cut for the lead ship, INS Vikrant, in April 2005. Its keel was laid down in February 2009, and it is scheduled to be launched in mid-2011 and commissioned in 2014. The second indigenous aircraft carrier (IAC-2) is expected to be ordered by 2010 for induction into the Indian Navy in 2017.

Vikrant Class design and features

Designed by the Directorate of Naval Design, the aircraft carrier can operate a combination of Russian MiG-29K, Ka31 and the indigenous light combat aircraft. It will be powered by two LM2500 gas turbines. The design incorporates highly automated systems for machinery operation, ship navigation and survivability.

The ship will have an overall length of 260m and a breadth of 60m and its displacement will be 40,000t. The ship can accommodate 1,600 personnel including ship company, airgroup and troops.


Construction

The design and construction of the first aircraft was approved by the Indian Government in January 2003. The construction work began in November 2006. Built through modular construction, a total of 874 blocks were fabricated for the erection.

"The Vikrant Class are the first indigenously designed and built aircraft carriers in India."
The ship is constructed from high-strength steel manufactured in-house with the assistance of the Defence Research and Development Organisation and the Steel Authority of India. These aircraft carriers will be the biggest warships ever built by CSL.

Fincantieri of Italy will provide assistance for propulsion system integration and the Naval Design Bureau of Russia will supply its aviation technology.

The Ministry of Defence granted funds to the shipyard to improve infrastructure such as workshops and heavy-duty machinery. The ship will be completed in two phases.

The first phase includes the work up to first launch at the end 2010, while the second will cover the remaining works until the delivery of the ship.

Aircraft

The flight deck will feature two take-off runways and a landing strip equipped with three arrester wires. The STOBAR (short take-off but arrested recovery) system on an angled flight deck is used to launch and recover an aircraft from the deck of an aircraft carrier. IAC-2 will be fitted with steam catapults rather than STOBAR to launch fourth-generation aircraft. The aircraft carrier can accommodate up to 30 aircraft. It will have adequate hangar and maintenance facilities for aircraft onboard.

The airgroup will be a mix of combat aircraft including the MiG-29K, Sea Harrier and naval light aircraft as well as the HAL Dhruv and Ka-31 helicopters. The Ka-31 provides airborne early warning coverage.

Weapon systems

The aircraft carrier will be fitted with a vertical launch system for long-range surface-to-air missiles. A close-in weapon system will provide self-defence for the ship against incoming anti-ship missiles and aircraft. Four OTO Melera 76mm Super Rapid guns - two on the bow section and two at the stern side – will be fitted. They can fire 120 rounds a minute at a range of 30,000m.

Countermeasures

The Vikrant Class ships will be equipped with a modern early air warning radar, VHF or UHF tactical air navigation and direction finding systems. The ship will also feature jamming capabilities. The combat management system onboard will use sensors and tactical data links to provide real-time situational awareness.

Propulsion

A combined gas turbine and gas turbine propulsion system will power the ship. Four General Electric LM2500+ gas turbines driving two shafts will provide a total power of 80MW. The propulsion system provides a maximum speed of over 28kt. The ship will have a range of about 8,000nm.

Builder Cochin Shipyard Limited
Operator Indian Navy
Complement 1600
Displacement Approximately 40,000t
Length 260m
Beam 60m
Draught 8.4m