Israel Air Force
Planes > Air Forces
IAF
History

Early years (1948–1967)

Further information: 1948 Arab-Israeli War and Suez Crisis


Preceded by the Sherut Avir, the air wing of the Haganah, the Israeli Air Force was officially formed on May 28, 1948, shortly after Israel declared statehood and found itself under immediate attack. At first, it was assembled from a hodge-podge collection of civilian aircraft commandeered or donated and converted to military use. A variety of obsolete and surplus ex-World War II combat aircraft were quickly sourced by various means - both legal and illegal - to supplement this fleet. The backbone of the IAF consisted of 25 Avia S-199s (purchased from Czechoslovakia, essentially Czechoslovak-built Messerschmitt Bf 109s) and 62 Supermarine Spitfire LF Mk IXEs. Creativity and resourcefulness were the early foundations of Israeli military success in the air, rather than technology (which, at the inception of the IAF, was generally inferior to that used by Israel's adversaries). Many of the first IAF's pilots in 1948 were foreign volunteers (both Jewish and non-Jewish) and World War II veterans, who wanted to collaborate with Israel's struggle for its independence. The IAF's humble beginnings made its first air victories particularly impressive and noteworthy.

Israel's new fighter arm first went into action on May 29, 1948, assisting the efforts to halt the Egyptian advance from Gaza northwards. Four newly arrived Avia S-199s, flown by Lou Lenart, Modi Alon, Ezer Weizman and Eddie Cohen, struck Egyptian forces near Isdud. Although damage was minimal, two aircraft were lost and Cohen killed, the attack nevertheless achieved its goal and the Egyptians stopped. The Avias were back in action on May 30, attacking Jordanian forces near Tulkarem, losing another aircraft in the process. The Israeli Air Force scored its first aerial victories on June 3, when Modi Alon, flying Avia D.112, shot down a pair of Egyptian Air Force DC-3s which had just bombed Tel Aviv. The first dogfight against enemy fighters took place a few days later, on June 8, when Gideon Lichtaman shot down an Egyptian Spitfire. As the war progressed, more and more aircraft were procured, including Boeing B-17s, Bristol Beaufighters, de Havilland Mosquitoes and P-51D Mustangs, leading to a shift in the balance of power. By the end of the war in early 1949, the IAF had secured air supremacy over Israel, one that has not been seriously challenged since.

The Israeli Air Force played an important part in Operation Kadesh, Israel's part in the 1956 Suez Crisis. At the launch of the operation, on October 29, Israeli P-51D Mustangs severed telephone lines in the Sinai, some using their propellor blades, while 16 IAF DC-3s escorted by fighters dropped Israeli paratroopers behind Egyptian lines at the Mitla Pass and Et-Tur.

During the 1950s, France became a major supplier of warplanes to Israel, but relations between the two countries deteriorated just before the Six-Day War, when France declared an arms embargo on Israel. Consequently, Israel Aircraft Industries (IAI) significantly increased its aircraft and weapons production (initially based on the French models) and Israel switched to the United States as its principal supplier of military aircraft.



The Six-Day War: Six-Day War
In three hours on the morning of June 5, 1967, the first day of the Six Day War, the Israeli Air Force executed Operation Focus, crippling the opposing Arab air forces and attaining air supremacy for the remainder of the war. In a surprise attack, the IAF destroyed most of the Egyptian Air Force while its planes were still on the ground. By the end of the day, with surrounding Arab countries also drawn into the fighting, the IAF had mauled the Syrian and Jordanian air forces as well, striking as far as Iraq. After six days of fighting Israel claimed a total of 452 Arab aircraft destroyed, of which 49 were aerial victories.

The War of Attrition: War of Attrition
Shortly after the end of the Six-Day War, Egypt initiated the War of Attrition, hoping to prevent Israel from consolidating its hold over the lands captured in 1967. Israel's goal in the fighting was to exact heavy losses on the opposing side, in order to facilitate a ceasefire. The Israeli Air Force consequently undertook repeated bombings of strategic targets deep within enemy territory and repeatedly challenged Arab air forces for aerial supremacy, all the while supporting operations by Israel's ground and naval forces. On July 30, 1970, the tension peaked: An IAF ambush resulted in a large scale air brawl between IAF planes and MiGs flown by Soviet pilots — five MiGs were shot down, while the IAF suffered no losses. Fear of further escalation and superpower involvement brought the war to a conclusion. By its end of August 1970, the Israeli Air Force had claimed 111 aerial kills while admitting losing only four aircraft to Arab fighters. Notable operations of the War of Attrition include:

Operation Rooster 53 – September 26, 1969:
IAF Super Frelon and Sikorsky CH-53 Yas'ur helicopters carry paratroopers in a raid to capture an advanced Soviet P-12 radar deployed in Egypt near Suez. A CH-53 helicopter carried the 4-ton radar back to Israeli held territory, tethered underneath it.
Operation Priha (Blossom) – January 7, 1970 – April 13, 1970: a concentrated series of strikes against military targets in the Egyptian heartland.

Operation Rhodes – 22 January, 1970:
Israeli Para and naval commandos are transported by IAF Super Frelon helicopters to Shadwan Island where they kill 30 Egyptian soldiers and take 62 more prisoner. The soldiers dismantle Egyptian radars and other military equipment for transport back to Israel. IAF bombers sink two Egyptian torpedo boats of the P-183 variant during the operation.
Rimon 20 – July 30, 1970: the IAF shoots down 5 Soviet piloted MiG-21 fighters in a carefully orchestrated ambush.

Yom Kippur War: Yom Kippur War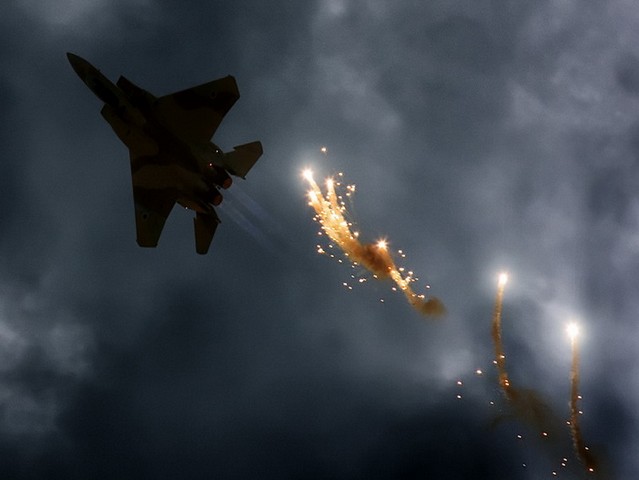 During the Yom Kippur War of October 1973, the Israeli Air Force shot down 334 enemy warplanes in air-to-air combat for the loss of only five of its own. A further 180 Arab aircraft were shot down or lost due to circumstances other than aerial combat. The IAF lost 104 aircraft, nearly all due to anti aircraft artillery or surface-to-air missile fire. These included the medium range SA-6 mobile SAM batteries and point defence systems such as the short range Shilka radar guided SPAAG and the SA-7 Strela MANPADS (employed by Egyptian infantry). Older but longer range and still very dangerous SA-2 and SA-3 anti aircraft missile batteries provided additional air defense coverage. Nevertheless, throughout the war, the IAF managed to assist IDF ground forces, and kept up strikes on targets in Syria and Egypt. As the war progressed, the IAF regained air supremacy by adopting new tactics and upgrading its ECM capabilities.

One of the first encounters of the war was the Ofira Air Battle, involving two Israeli Phantoms versus 28 Egyptian MiG-17s and MiG-21s. In the aerial combat that ensued, the Phantom pair succeeded in downing 7 to 8 Egyptian planes and driving off the rest. On October 9, 1973, two F-4 Phantom quartets attacked and destroyed the Syrian General Staff Headquarters in the heart of Damascus, damaging Syrian Air Force Headquarters as well. During the war, IAF helicopters proved to be highly useful in the logistic and MedEvac roles.

Growth (1973–1982)
Ever since the Yom Kippur War, most of Israel's military aircraft have been obtained from the United States. Among these are the F-4 Phantom II, A-4 Skyhawk, F-15 Eagle, F-16 Fighting Falcon, and E-2 Hawkeye. The Israeli Air Force has also operated a number of domestically-produced types such as the IAI Nesher, and later, the more advanced IAI Kfir, which were unauthorised derivatives of the French Dassault Mirage 5 (Israel bought 50 Mirage 5's from Dassault Aviation, but these were not delivered due to the French embargo emposed following the Six Day war). The Kfir was adapted to utilize a more powerful US engine, produced under license in Israel.

In 1976, IAF C-130 Hercules aircraft participated in Operation Thunderball, the rescue from Entebbe, Uganda, of the hostages of Air France flight 139.

Bombing of the Iraqi nuclear reactor: Operation Opera
On June 7, 1981 eight IAF F-16A fighters covered by six F-15A jets carried out Operation Opera (also referred to as Operation Babylon or Operation Ofra) to destroy the Iraqi nuclear facilities of Osiraq. Among the pilots that took part in the attack was the late Colonel Ilan Ramon, Israel's first astronaut. The planes returned to Israel very low on fuel.

1982 Lebanon War and its aftermath: 1982 Lebanon War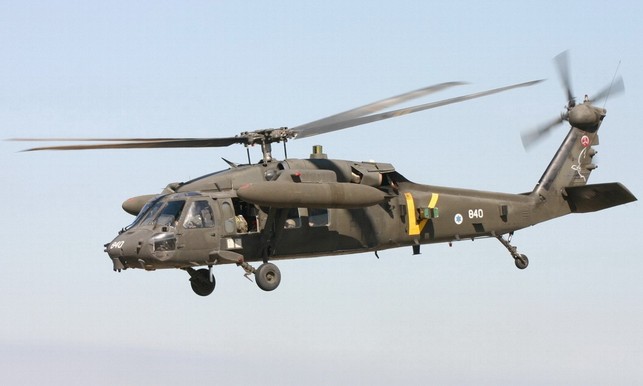 Prior to the 1982 Lebanon War, Syria, with the help of the Soviet Union, had built up an overlapping network of surface-to-air missiles in Lebanon's Beqaa Valley. On June 9, 1982 the Israeli Air Force carried out Operation Mole Cricket 19, crippling the Syrian air defence array. In subsequent aerial battles against the Syrian Air Force, the IAF managed to shoot down 86 Syrian aircraft without losing a single fighter plane in an air to air combat. IAF AH-1 Cobra helicopter gunships destroyed dozens of Syrian armored fighting vehicles and other ground targets, including some T-72 main battle tanks.

In 1986 an IAF F-4 Phantom, piloted by Captain Aharon Achiaz, was inadvertently damaged midair and abandoned, resulting in the capture of flight navigator then-Captain Ron Arad by the Lebanese Shi'ite militia Amal. To this day, the whereabouts of Arad has not been disclosed by his captors.

For many years after the war's official end, and throughout Israel presence in Lebanon, IAF AH-1 Cobras continued to mount attacks on Hezbollah and PLO positions in south Lebanon.

Bombing of the PLO headquarters in TunisOn October 1, 1985, In response to a PLO terrorist attack which murdered three Israeli civilians in Cyprus, the Israeli air force carried out Operation Wooden Leg. The strike involved the bombing of PLO Headquarters in Tunis, Tunisia, by F-15 Eagles. This was the longest combat mission ever undertaken by the IAF, a stretch of 2,300 kilometers, involving in-flight refueling by an IAF Boeing 707. As a result, PLO headquarters and barracks were either destroyed or damaged.

High Tech age (1990 and beyond)

An Israeli F-16 prepares to strike enemy targets during the Gaza WarMany of the IAF's electronics and weapons systems are developed and built in Israel by Israel Military Industries, Israel Aerospace Industries, Elbit, and others. Since the 1990s, the IAF has upgraded most of its aircraft with advanced Israeli-made systems, improving their performances. In 1990 the IAF began receiving the AH-64 Apache helicopter gunship and started equipping its aircraft with the Rafael Python 4, Popeye, and Derby missiles.

During the first Gulf War of 1991, Israel was attacked by Iraqi Scud missiles. Israeli Air Force pilots were on constant stand-by in their cockpits throughout the conflict, ready to fly to Iraq to retaliate. Diplomatic pressure as well as denial of IFF (Identify Foe or Friend) transponder codes from the United States, however, kept the IAF grounded while Coalition air assets and Patriot missile batteries supplied by the U.S. and the Netherlands sought to deal with the Scuds. In 1991, the IAF carried out Operation Solomon which brought Ethiopian Jews to Israel.

In the late 1990s, the IAF began acquiring the F-15I Ra'am (Thunder) and the F-16I Sufa (Storm), manufactured specially for Israel according to IAF requirements. The first of 102 F-16I Sufas arrived in April, 2004, joining an F-16 fleet that had already been the largest outside the US Air Force. The IAF also purchased the advanced Israeli air-to-air missile Rafael Python 5, with full-sphere capability, as well as a special version of the Apache Longbow, designated AH-64DI or Saraph. In 2005 the Israeli Air Force received modified Gulfstream V jets ("Nachshon"), equipped with advanced intelligence systems made by Israel Military Industries.

The Israeli Air Force took an extensive part in IDF operations during the al-Aqsa Intifada, including the controversial targeted killings of Palestinian militant leaders, most notably Salah Shakhade, Mahmoud Abu-Hunud, Abu Ali Mustafa, Ahmed Yassin, Adnan al-Ghoul, Jamal Abu Samhadana, and Abed al-Aziz Rantissi. While this policy was criticized due to the collateral damage caused in certain instances, Israel claims it is vital in its fight against terrorism and that IAF pilots do whatever they can to avoid civilian casualties, including aborting strikes.

In 2007, Israel achieved a civilian casualty ratio of 1:30, or one civilian casualty for every thirty combatant casualties, in its airstrikes on militants in the Gaza Strip. Commentators have noted that, "No army in history has ever had a better ratio of combatants to civilians killed in a comparable setting".

2006 Lebanon WarMain article: 2006 Lebanon War

The IAF played a critical role in the 2006 Lebanon War by leading the Israeli attacks on Lebanon. These strikes – mainly, though not exclusively, in southern Lebanon – were aimed at stopping rocket launches by Hezbollah's militia targeting Israeli towns. The IAF flew more than 12,000 combat missions during this war. The most notable mission, taking place during the second day of the war, resulted in the IAF destroying 59 Iranian-supplied medium- and long-range missile launchers in just 34 minutes. Widespread condemnation followed the July 30 IAF airstrike on a building suspected to be a militant hideout near the village of Qana, in which 28 civilians were killed. Hezbollah shot down an IAF CH-53 Yas'ur helicopter on the last day of the war, killing five aircrew members. Earlier, an IAF F-16I had crashed during take-off. Israeli aircraft also shot down three of Hezbollah's Iranian-made aerial drones during the conflict.

Recent activities and Gaza War: Operation Orchard, Gaza War, and 2009 Sudan airstrikes
In September 2007, the Israeli Air Force successfully bombed an alleged Syrian nuclear reactor in Operation Orchard.

During Operation Cast Lead (2008–2009), Israel Air Force had a main role in destroying Hamas facilities and targets in the Gaza Strip, carrying out more than 2,360 air strikes until the end of the campaign.

According to a CBS news report, in January 2009 Israeli planes struck a convoy of trucks in Sudan that was headed for Egypt and carrying weapons apparently meant for the Gaza Strip. 17 trucks had been bombed and 39 smugglers had been killed in the strike.

Units and structure

Air and Space Arm
Chief of Arm Staff Group
Fixed Wing Air Group
Helicopter Air Group
Intelligence Group
Equipment Group
Manpower Group
Air Defence Command
Unit Control Command
Special Air Forces Command
Shaldag - air force commando unit
Unit 669 - medevac extraction unit

Chief Medical Officer Command
Ramat David Airbase (1st Air-Wing)
109th Squadron ("The Valley Squadron") – operating F-16D
110th Squadron ("The Knights of North Squadron") – operating F-16C
117th Squadron ("The 1st Jet Squadron") – operating F-16C
193rd Squadron ("The Defenders of the West Squadron") – operating Eurocopter Panther (Joint Command with the navy)

Sdot Micha (2nd Air-Wing)
150th Squadron of ICBM missiles
199th Squadron of ICBM missiles
248th Squadron of ICBM missiles

Hatzor Airbase (4th Air-Wing)
101st Squadron ("The 1st Combat Squadron") – operating F-16C
105th Squadron ("The Scorpion Squadron") – operating F-16D

Hatzerim Airbase (6th Airbase)
69th Squadron ("The Hammers Squadron") – operating F-15I
102nd Squadron ("The Flying Tiger Squadron") – operating TA-4 and various trainer aircraft (Flight Training School)

IAF Aerobatic Team
107th Squadron ("The Knights of the Orange Tail Squadron") – operating F-16I
123rd Squadron ("The Desert Birds Squadron") – operating S-70

Air Force Infantry School (Air Force Installation Protection Units)
Tel Nof Airbase (8th Airbase)
106th Squadron ("The Spearhead Squadron") operating F-15B/C/D
114th Squadron ("The Night Guides Squadron") – operating CH-53
118th Squadron ("The Nocturnal Birds of Prey Squadron") – operating CH-53
133rd Squadron ("The Twin-Tail Knights Squadron") – operating F-15A/B/D
210th Squadron – operating Eitan UAVs
601st Squadron (Flight Test Center)
Unit 555 ("Sky Crows") - electronic warfare unit

Uvda Airbase (10th Airbase)
115th Squadron ("The Flying Dragon Squadron") operating F-16A, AH-1, and more – Opposing forces emulation squadron
Aviation School
IAF Officers School

Sde Dov Airbase (15th Air-Wing)
100th Squadron ("The Flying Camel Squadron") – operating Beechcraft King Air
135th Squadron ("The Kings of the Air Squadron") – operating Beechcraft King Air and Beechcraft Bonanza
Aerial firefighting squadron - forming.

Haifa Airbase (21st Airbase)
Technical School
IAF Technological College

Ramon Airbase (25th Air-Wing)
113th Squadron ("The Hornet Squadron") – operating AH-64D
119th Squadron ("The Bat Squadron") – operating F-16I
190th Squadron ("The Magic Touch Squadron) – operating AH-64
201st Squadron ("The One Squadron") – operating F-16I
253rd Squadron ("The Negev Squadron") – operating F-16I

Nevatim Airbase (28th Airbase)
103rd Squadron ("The Elephants Squadron") – operating C-130
116th Squadron ("The Defenders of the South Squadron") – operating F-16A/B
120th Squadron ("The Desert Giants Squadron") – operating Boeing 707
122nd Squadron ("The Nahshon Squadron") – operating Gulfstream G550
131st Squadron ("The Knights of the Yellow Bird") – operating C-130
140th Squadron ("The Golden Eagle") – operating F-16A/B

Palmachim Airbase (30th Airbase)
124th Squadron ("The Rolling Sword Squadron") – operating S-70
151st Squadron (Missile Testing Squadron)
160th Squadron ("The 1st Helicopter Gunships Squadron") – operating AH-1
166th Squadron ("The UAV Squadron") – operating Hermes 450 UAVs
200th Squadron ("The 1st UAV Squadron") – operating Heron UAVs

Machanaim Airbase (reserve)
Reserve squadrons:
125th Squadron ("The Light Choppers Squadron") – former operator of Bell-206
144th Squadron ("The Phoenix Squadron") – former operator of F-16A/B
147th Squadron ("The Goring Ram Squadron") – former operator of A-4
149th Squadron ("The Crushing Parrot Squadron") – former operator of Kfir
161st Squadron ("The Northern Cobras Squadron") – former operator of AH-1
192nd Squadron ("The Hawk Eye Squadron") – former operator of E-2
254th Squadron ("The Midland Squadron") – former operator of Kfir

Three IAF squadrons (150 Sqn, 199 Sqn and 248 Sqn), based at Sdot Micha, are thought to be responsible for Israel's surface-to-surface nuclear strike capability, maintaining a stockpile of between 50 and 100 Jericho II missiles. During 2008 Israel launched a programme to extend the range of its existing Jericho II ground attack missiles. The Jericho-II missile is capable of sending a one ton nuclear payload 5,000 kilometers. The range of Israels' Jericho II missiles is reportedly capable of being modified to carry nuclear warhead no heavier than 500 kg over 7,800 km, in effect making it an ICBM. Some of the Jericho II missiles are based at facilities which were built in the 1980s. The Jericho III ICBM, became operational in January 2008 and some reports speculate that the missile may be able to carry MIRVed warheads. The maximum range estimation of the Jericho III is 11,500 km with a payload of 1000–1300 kg and its accuracy is considered high. In January 2008 Israel has carried out the successful test launch of a long-range, ballistic missile capable of carrying a nuclear warhead from the reported launch site at the Palmachim air base south of Tel Aviv. Israeli radio identified the missile as a Jericho III and the Hebrew YNet news Web site quoted unnamed defence officials as saying the test had been "dramatic" and that the new missile can reach "extremely long distances," without elaborating.

Missiles, bombs and satellites

Air-to-air missiles
Python 5 (front)AIM-7 Sparrow : Medium-range air-to-air missile.
AIM-9 Sidewinder : Short-range air-to-air missile.
AIM-120 AMRAAM : Medium-range air-to-air missile.
Derby : Medium-range air-to-air missile.
Python : Short-range air-to-air missile.
Shafrir : Obsolete short-range air-to-air missile, no longer in service with the Israeli Air Force.
Matra R530 : Obsolete short-range air-to-air missile from the 1960s, no longer in service with the Israeli Air Force.

Air-to-ground missiles
Delilah missileAGM-62 Walleye : Air-to-surface missile.
AGM-65 Maverick : Air-to-surface missile.
AGM-45 Shrike : Air-to-surface, anti-radiation missile.
AGM-78 Standard : Air-to-surface, anti-radiation missile.
AGM-114 Hellfire : Air-to-surface, anti-tank missile.
AGM-142 Popeye : Air-to-surface missile
Delilah : Air-to-surface missile.
AS.11 : Obsolete air-to-surface missile from the 1950s and 60s, no longer in service with Israeli Air Force.
AS.30 : Obsolete air-to-surface missile from the 1960s, no longer in service with the Israeli Air Force.
BGM-71 TOW : Air-to-surface, anti-tank missile.
AGM-84 Harpoon : Air-to-surface anti-ship missile.
Gabriel : Air-to-surface, anti-ship missile.

Bombs
GBU-12 – GBU-15 – GBU-16 – GBU-27 – GBU-28 – GBU-31 – GBU-32 – GBU-39 – BLU-109
Guidance kits : JDAM – Spice

Surface-to-air missiles
Arrow missile launchArrow : Anti-ballistic missile system.
FIM-92 Stinger : Man portable surface-to-air missile.
MIM-23 Hawk : Medium-range surface-to-air missile.
MIM-104 Patriot : Surface-to-air missile.
Iron Dome : Anti-rocket & mortar defense missile

Surface-to-surface missilesDelilah :
Surface-to-surface cruise missile.
Jericho I: 500 km range Short Range Ballistic Missile
Jericho II: 2,800 km range Intermediate Range Ballistic Missile
Jericho III: 5,000-11,000 km range Intercontinental Ballistic Missile

Space Systems
Amos (1, 2, 3) – communications satellite
EROS (A, B) – earth observation satellite
Ofeq (3, 5, 7, 9) – reconnaissance satellite
TecSAR – reconnaissance satellite
Shavit – space launch vehicle