Operational history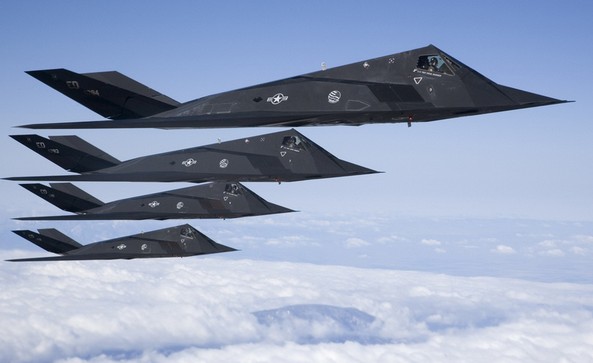 During the program's early years, from 1984 to mid-1992, the F-117A fleet was based at Tonopah Test Range Airport, Nevada where it served under the 4450th Tactical Group. Because the F-117 was classified during this time, the 4450th Tactical Group was "officially" located at Nellis Air Force Base, Nevada and equipped with A-7 Corsair II aircraft. The 4450th was absorbed by the 37th Tactical Fighter Wing in 1989. In 1992, the entire fleet was transferred to Holloman Air Force Base, New Mexico, where it was placed under the command of the 49th Fighter Wing. The move eliminated the Key Air and American Trans Air contract flights, which flew 22,000 passenger trips on 300 flights from Nellis to Tonopah per month.

F-117 pilots called themselves "Bandits". Each of the 558 Air Force pilots who have flown the F-117 have a Bandit number, such as "Bandit 52", that indicates the sequential order of their first flight in the F-117.

The F-117 has been used several times in war. Its first mission was during the United States invasion of Panama in 1989. During that invasion two F-117A Nighthawks dropped two bombs on Rio Hato airfield.

During the Persian Gulf War in 1991, the F-117A flew approximately 1,300 sorties and scored direct hits on 1,600 high-value targets in Iraq over 6,905 flight hours. Only 2.5% of the American aircraft in Iraq were F-117s, yet they struck more than 40% of the strategic targets. F-117As dropped over 2,000 tons of precision-guided munitions and struck their targets with over an 80% success rate. "Although the 37th Tactical Fighter Wing Provisional and its 42 stealth fighters represented just 2.5 percent of all allied fighter and attack aircraft in the Persian Gulf, the F-117As were assigned against more than 31 percent of the strategic Iraqi military targets attacked during the first 24 hours of the air campaign."

It was among the only U.S. or coalition aircraft to strike targets in downtown Baghdad. Among the aircraft with which the Nighthawk shared this distinction were the F-16s which attacked Baghdad during daylight on 19 January 1991 during the "Package Q" mission—the largest single sortie flown during the war.

Since moving to Holloman AFB in 1992, the F-117A and the men and women of the 49th Fighter Wing have deployed to Southwest Asia more than once. On their first trip, the crews flew non-stop from Holloman to Kuwait, a flight of approximately 18.5 hours – a record for single-seat fighters that stands today.

It has since been used in Operation Allied Force in 1999, Operation Enduring Freedom in 2001 and in Operation Iraqi Freedom in 2003.


Specifications

General characteristics

Crew: 1
Length: 65 ft 11 in (20.09 m)
Wingspan: 43 ft 4 in (13.20 m)
Height: 12 ft 9.5 in (3.78 m)
Wing area: 780 ft² (73 m²)
Empty weight: 29,500 lb (13,380 kg)
Loaded weight: 52,500 lb (23,800 kg)
Powerplant: 2× General Electric F404-F1D2 turbofans, 10,600 lbf (48.0 kN) each

Performance

Maximum speed: Mach 0.92 (617 mph, 993 km/h)
Cruise speed: Mach 0.92
Range: 930 NM[67] (1720 km)
Service ceiling: 45,000 ft (13,716 m)
Wing loading: 65 lb/ft² (330 kg/m²)
Thrust/weight: 0.40

Armament

2 × internal weapons bays with one hardpoint each (total of two weapons) equipped to carry:
Bombs:
BLU-109 hardened penetrator
GBU-10 Paveway II laser-guided bomb
GBU-12 Paveway II laser-guided bomb
GBU-27 Paveway III laser-guided bomb
JDAM INS/GPS guided munition
B61 nuclear bomb