F-117 Nighthawk
Planes > list > bombers
Nighthawk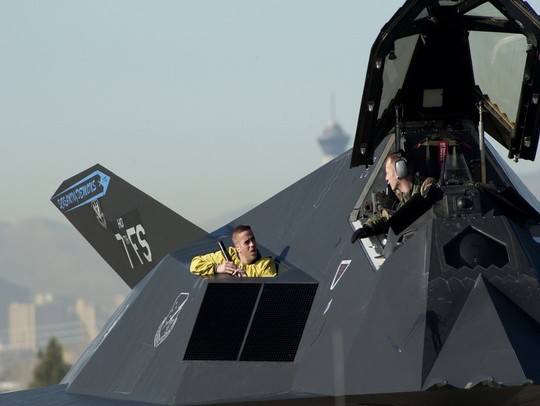 The F-117A Nighthawk stealth fighter attack aircraft was developed by Lockheed Martin after work on stealth technology, and the predecessor test demonstrator aircraft, Have Blue, was carried out in secret from 1975.

Development of the F-117A began in 1978 and it was first flown in 1981, but it was not until 1988 that its existence was publicly announced.

The Nighthawk is the world's first operational stealth aircraft. The first aircraft was delivered in 1982 and the last of the 59 Nighthawks procured by the US Air Force was received in 1990.

The F-117A aircraft is also known as the Frisbee and the Wobblin' Goblin. The mission of the aircraft is to penetrate dense threat environments and attack high-value targets with high accuracy. Nighthawk has been in operational service in Panama, during Operation Desert Storm, in Kosovo, in Afghanistan and during Operation Iraqi Freedom.

"The outer surface of Nighthawk is coated with a radar-absorbent material (RAM)."The F-117 is being replaced in the USAF by the F-22 Raptor. The first 10 of the 55 F-117 aircraft in service were retired in December 2006. A formal retirement ceremony took place at Wright-Patterson AFB in March 2008.

The F-117s are being stored in hangars at an airfield in the Tonopah Test Range, Nevada. The wings and tails are being removed for storage, but some aircraft will be able to be rapidly recalled to flight if required. The last four F-117 aircraft flew to Tonopah on April 22nd 2008.

In January 2004, an F-117 successfully released a JDAM (JDAM) 2,000lb bomb for the first time. The integration of JDAM and other precision-guided weapons on the F-117 is coupled with the block II software upgrade and achieved initial operating capability (IOC) in 2006.
The Nighthawk is only used for night-time missions.

Design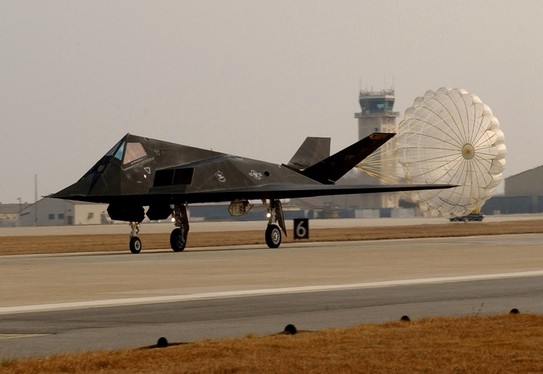 The F-117 is shaped to deflect radar signals and is about the size of an F-15 Eagle. The single-seat Nighthawk is powered by two non-afterburning General Electric F404 turbofan engines, and has quadruple-redundant fly-by-wire flight controls. It is air refuelable. To lower development costs, the avionics, fly-by-wire systems, and other parts are derived from the F-16 Fighting Falcon, F/A-18 Hornet and F-15E Strike Eagle. The parts were originally described as spares on budgets for these aircraft, to keep the F-117 project secret. The F-117 Nighthawk has a radar signature of about 0.025 m2.

Among the penalties for stealth are lower engine power thrust, due to losses in the inlet and outlet, a very low wing aspect ratio, and a high sweep angle (50°) needed to deflect incoming radar waves to the sides. With these design considerations and no afterburner, the F-117 is limited to subsonic speeds.

The F-117A is equipped with sophisticated navigation and attack systems integrated into a digital avionics suite. It carries no radar, which lowers emissions and cross-section. It navigates primarily by GPS and high-accuracy inertial navigation. Missions are coordinated by an automated planning system that can automatically perform all aspects of an attack mission, including weapons release. Targets are acquired by a thermal imaging infrared system, slaved to a laser that finds the range and designates targets for laser-guided bombs.

The F-117A's split internal bay can carry 5,000 lb (2,300 kg) of ordnance. Typical weapons are a pair of GBU-10, GBU-12, or GBU-27 laser-guided bombs, two BLU-109 penetration bombs, or two Joint Direct Attack Munitions (JDAMs), a GPS/INS guided stand-off bomb.

Nighthawk
Operational history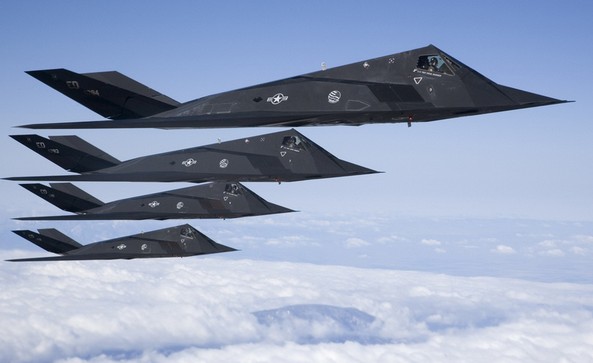 During the program's early years, from 1984 to mid-1992, the F-117A fleet was based at Tonopah Test Range Airport, Nevada where it served under the 4450th Tactical Group. Because the F-117 was classified during this time, the 4450th Tactical Group was "officially" located at Nellis Air Force Base, Nevada and equipped with A-7 Corsair II aircraft. The 4450th was absorbed by the 37th Tactical Fighter Wing in 1989. In 1992, the entire fleet was transferred to Holloman Air Force Base, New Mexico, where it was placed under the command of the 49th Fighter Wing. The move eliminated the Key Air and American Trans Air contract flights, which flew 22,000 passenger trips on 300 flights from Nellis to Tonopah per month.

F-117 pilots called themselves "Bandits". Each of the 558 Air Force pilots who have flown the F-117 have a Bandit number, such as "Bandit 52", that indicates the sequential order of their first flight in the F-117.

The F-117 has been used several times in war. Its first mission was during the United States invasion of Panama in 1989. During that invasion two F-117A Nighthawks dropped two bombs on Rio Hato airfield.

During the Persian Gulf War in 1991, the F-117A flew approximately 1,300 sorties and scored direct hits on 1,600 high-value targets in Iraq over 6,905 flight hours. Only 2.5% of the American aircraft in Iraq were F-117s, yet they struck more than 40% of the strategic targets. F-117As dropped over 2,000 tons of precision-guided munitions and struck their targets with over an 80% success rate. "Although the 37th Tactical Fighter Wing Provisional and its 42 stealth fighters represented just 2.5 percent of all allied fighter and attack aircraft in the Persian Gulf, the F-117As were assigned against more than 31 percent of the strategic Iraqi military targets attacked during the first 24 hours of the air campaign."

It was among the only U.S. or coalition aircraft to strike targets in downtown Baghdad. Among the aircraft with which the Nighthawk shared this distinction were the F-16s which attacked Baghdad during daylight on 19 January 1991 during the "Package Q" mission—the largest single sortie flown during the war.

Since moving to Holloman AFB in 1992, the F-117A and the men and women of the 49th Fighter Wing have deployed to Southwest Asia more than once. On their first trip, the crews flew non-stop from Holloman to Kuwait, a flight of approximately 18.5 hours – a record for single-seat fighters that stands today.

It has since been used in Operation Allied Force in 1999, Operation Enduring Freedom in 2001 and in Operation Iraqi Freedom in 2003.


Specifications

General characteristics

Crew: 1
Length: 65 ft 11 in (20.09 m)
Wingspan: 43 ft 4 in (13.20 m)
Height: 12 ft 9.5 in (3.78 m)
Wing area: 780 ft² (73 m²)
Empty weight: 29,500 lb (13,380 kg)
Loaded weight: 52,500 lb (23,800 kg)
Powerplant: 2× General Electric F404-F1D2 turbofans, 10,600 lbf (48.0 kN) each

Performance

Maximum speed: Mach 0.92 (617 mph, 993 km/h)
Cruise speed: Mach 0.92
Range: 930 NM[67] (1720 km)
Service ceiling: 45,000 ft (13,716 m)
Wing loading: 65 lb/ft² (330 kg/m²)
Thrust/weight: 0.40

Armament

2 × internal weapons bays with one hardpoint each (total of two weapons) equipped to carry:
Bombs:
BLU-109 hardened penetrator
GBU-10 Paveway II laser-guided bomb
GBU-12 Paveway II laser-guided bomb
GBU-27 Paveway III laser-guided bomb
JDAM INS/GPS guided munition
B61 nuclear bomb