Hyuga ASW Helicopter Carrier
Aircraft Carriers
JMSDF DDH 181 Hyuga
The Hyuga-class helicopter destroyer are a type of helicopter carrier (formally called helicopter destroyers (DDH) to comply with constitutional limitations) being built for the Japan Maritime Self-Defense Force (JMSDF). They are planned to replace the 7,000-ton Haruna-class destroyers currently in use. The new ships will be the largest combatant ship operated by Japan since the Imperial Japanese Navy was superseded by the JMSDF. The first ship in the class, the Hyuga, was commissioned Wednesday, March 18, 2009. It will be stationed in Yokosuka port, near Tokyo.

The Hyuga resembles a light aircraft carrier or amphibious assault ship such as the Italian Navy's 13,850-ton Giuseppe Garibaldi, the Spanish Navy's 17,000-ton Principe de Asturias or the Royal Navy's 21,000-ton Invincible-class carriers. According to a PBS documentary, JS Hyuga is the "first Japanese aircraft carrier built since WWII."

The Hyuga 's code-name (16DDH) and Ise 's code-name (18DDH) derive from the Japanese calendar, specifically the 16th year and 18th year of the Heisei reign (2004 and 2006), when the provisional title was given.

Design and specifications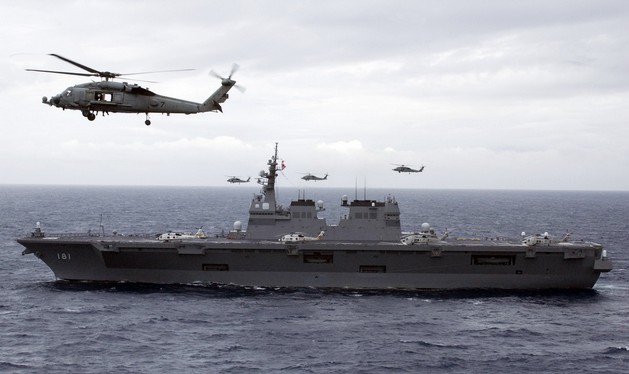 The Japanese Government's classification of the Hyuga class as destroyers has been met with some criticism. As the ships are larger than any previous destroyers and have a full-length flight deck and relatively large air wing, they have been compared to light aircraft carriers.

Some media reports have labeled the ships aircraft carriers and it has been suggested that they represent an attempt by Japan to revive its naval aviation capabilities. The ships are limited in their capacity to carry helicopters and fixed-wing aircraft capable of vertical liftoff, including Harriers and F-35 Lightning IIs, and modification would be required to install a HMS Invincible-like 12° bow ski-jump ramp and other equipment needed to operate aircraft with even larger liftoff loads.

Defense News in the US reported shortly after Hyuga was launched that a Japanese defense analyst with close ties to the Tokyo government suggested the new warship will engage in operations beyond those involving simple helicopters, and may be outfitted with more advanced fighters in the future. Jane's Fighting Ships has classified the Hyuga class as helicopter carriers and GlobalSecurity.org states that they are helicopter destroyers.

The ships' primary mission will be that of a anti-submarine warfare carrier, using the helicopters on board. They will also have enhanced command-and-control capabilities, allowing them to serve as flagships for the MSDF. As a wartime flagship, the 16DDH would serve as a command-and-control platform, coordinating the activities of other units while its organic helicopters conducted ASW operations. During peacetime operations, or "military operations other than war" (MOOTW), the 16DDH would join the Osumi-class ships for peacekeeping and relief operations, as well as the "diverse situations" Japan foresees confronting on the high seas." [Yoshihara & Holmes, Summer 2006]

It is almost as large as the Imperial Japanese Navy's Tone class heavy cruisers. It matches in size modern small aircraft carriers as Italy's MM Giuseppe Garibaldi (13,850 tons) and Spain's Principe de Asturia (17,188 tons). In terms of displacement, the two destroyers -- not nuclear-powered -- will be in the class of Britain's Invincible, a 20,600-ton light flattop, when they are fully loaded with fuel.

The ships will be able to carry up to eleven aircraft, relying on a 16-cell VLS carrying the ESSM SAM, along with the Phalanx CIWS, for self-defense. They are also equipped with the ATECS command system and FCS-3 phased-array radar system.

The JMOD FY2010 budget request included 116.6 billion Yen for a new 22DDH "helicopter destroyer" built to a design signficiantly larger than the 16DDH Hyuuga Class. The ship would eventually replace the destroyer Shirane, which was scheduled to be decommissioned in fiscal 2014.

Ships in the class
Hyuga ASW helicopter carrier
Construction of the first ship (Hyuga) was started in 2006. She was launched on 23 August 2007. At least one more ship in the class is planned, which was launched and named Ise on 21 August 2009. The JMSDF plans to acquire a further two similar or slightly modified ships of this class, though this has not been approved by the Government. On 23 November 2009 it was reported that the JMSDF is planning to build an even larger helicopter destroyer than the Hyuga class vessels with a length of 248 metres (271 yd) and displacement of 19,500 tons. This ship will be capable of carrying 14 helicopters, 4,000 troops and 50 trucks.

Name
The lead ship was named after Hyuga Province, present-day Miyazaki Prefecture, on the east coast of Kyushu, inheriting the name of the Ise-class battleship Hyuga of the Imperial Japanese Navy, which was commissioned in 1918, and subsequently served in World War II. The second ship of the class was named after Ise Province, present-day Mie Prefecture, inheriting the name of the Ise-class battleship Ise. Following the Battle of Midway, the Hyuga and Ise were converted into a hybrid battleship/aircraft carriers in 1943. The aft gun turrets and barbettes were replaced by a small flight deck and hangar deck that could launch a squadron of Yokosuka D4Y dive-bombers and Aichi E16A seaplanes.



Pennant no.---Name---------Laid down----Launched--Commissioned
DDH-181------Hyuga(16DDH)--11 May 2006--23 Aug 2007--18 March 2009
DDH-182------Ise (18DDH)-----30 May 2008--21 Aug 2009--March 2011----

Characteristics
Type: Helicopter carrier
Displacement: 13,950 tons standard;
-----------------18,000 tons full load
Length: 197 m (646 ft)
Beam: 33 m (108 ft)
Draft: 7 m (23 ft)
Propulsion: COGAG, two shafts, 100,000 hp (75,000 kW)
Speed: more than 30 knots (56 km/h; 35 mph)
Complement: 360 (Hyuga)
----------------371 (Ise)

Sensors and processing systems:
ATECS (advanced technology command system)
OYQ-10 advanced combat direction system
FCS-3 AAW system
OQQ-21 ASW system
NOLQ-3C EW system
OPS-20C surface search radar

Armament:
16 cells Mk 41 VLS
16 ESSM
12 RUM-139 VL ASROC
2 × 20 mm Phalanx CIWS
2 × triple 324 mm torpedo tubes
12.7mm MG

Aircraft carried:
Up to 11. Usual air wing is 3 × SH-60K, 1 × MCH-101

Aviation facilities: Flight deck and enclosed hangar