The Airbus A400M is a multi-national four-engine turboprop military transport aircraft. It was designed by Airbus Military as a tactical airlifter with strategic capabilities. The aircraft's maiden flight, originally planned for 2008, took place on 11 December 2009 in Seville, Spain.

Development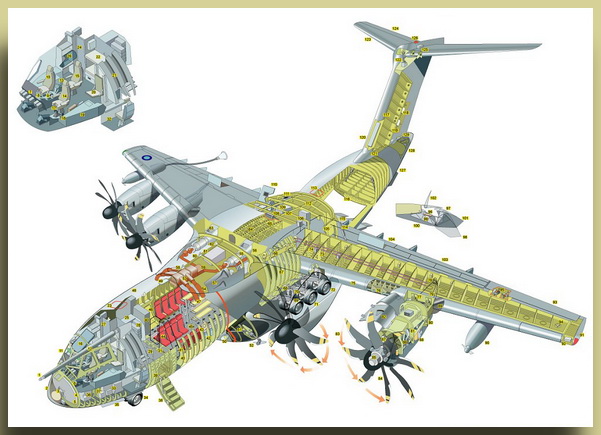 The project began as the Future International Military Airlifter (FIMA) group, set up in 1982 by Aerospatiale, British Aerospace, Lockheed, and MBB to develop a replacement for the C-130 Hercules and Transall C-160. Varying requirements and the complications of international politics caused slow progress. In 1989 Lockheed left the grouping and went on to develop an upgraded Hercules, the C-130J Super Hercules. With the addition of Alenia of Italy and CASA of Spain the FIMA group became Euroflag.

The A400M is positioned as an intermediate size between the Lockheed C-130, and the Boeing C-17. Originally the SNECMA M138 turboprop (based on the M88 core) was selected to power the A400M. Airbus Military issued a new Request for Proposal in April 2002 which Pratt & Whitney Canada with the PW180 and Europrop International answered; the latter was a new design. Airbus Military preferred the PWC engine, but political interference resulted in the selection of the Europrop TP400-D6 in May 2003.

The partner nations, France, Germany, Italy, Spain, the United Kingdom, Turkey, Belgium, and Luxembourg, signed an agreement in May 2003 to buy 212 aircraft. These nations decided to charge the Organisation for Joint Armament Cooperation (OCCAR) with the management of the acquisition of the A400M.

Following the withdrawal of Italy and revision of procurement totals the revised requirement was for 180 aircraft, with first flight in 2008 and first delivery in 2009. On 28 April 2005, South Africa joined the partnership programme with the state owned Denel Saab Aerostructures receiving a contract for fuselage components.

Into production

The A400M assembly at the Seville plant of EADS Spain started in Q1 2007. Airbus plans to manufacture thirty aircraft per year. The major assemblies arrive by Airbus Beluga transporters. The four Europrop TP400-D6 flight test engines were delivered in late February 2008 for the first A400M. Static structural testing of a A400M test airframe began on 12 March 2008 in Spain.

The first A400M, surrounded by EADS employees, during the aircraft's world presentation (roll-out), celebrated in Seville on 26 June 2008.The first test flight, originally scheduled for Q1 2008, was postponed due to program delays, schedule adjustments and financial pressures. EADS announced in early January 2008 that continued development problems with the engines had resulted in a delay to Q2 2008 before the first engine test flights on a C-130 testbed aircraft. The first flight of the aircraft, previously scheduled for July 2008, had again been postponed. Civil certification under European Aviation Safety Agency (EASA) CS-25 will be followed later by certification for military purposes. The A400M was "rolled out" in Seville on 26 June 2008 at an event presided by King Juan Carlos I of Spain. On 12 January 2011, serial production of the A400M for its first customers started.

Flight testing
Before the first flight, the company obtained the required hours of airborne test time on the engines using a C-130 testbed aircraft. The first flight of the C-130 testbed occurred on 17 December 2008. The A400M's maiden flight was carried out from Seville on 11 December 2009. The first A400M had flown 39 hours of test flights as of 9 March 2010. The second test aircraft's engines were tested on 18 March 2010 prior to it beginning test flights. The second A400M completed its first flight on 8 April 2010. The third A400M took to the air in July 2010. With this flight the three A400Ms have taken more than 100 flights, totaling 400 hours.

In July 2010, the A400M passed a key test: ultimate-load testing of the wing. On 28 October 2010, Airbus Military announced that it was about to start refuelling and air-drop tests. By late October 2010 the A400M had flown 672 hours of the 2,700 hours expected to reach certification. Cold weather testing is to be performed in either Canada or Sweden. In November 2010, the first paratroop jumps were performed from the A400M. In December 2010 the A400M fleet's flight time has risen to 965 hours. A400M number four joined the test fleet with its first flight of over five hours on 20 December 2010. Wintertests where done in Sweden Kiruna during february 2011.

Design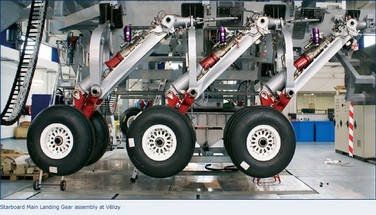 The Airbus A400M will increase the airlift capacity and range compared with the aircraft it was originally set to replace, the older versions of the Hercules and Transall. Cargo capacity is expected to double over existing aircraft, both in payload and volume, and range is increased substantially as well. The cargo box is 17.71 m long excluding ramp, 4.00 m wide, and 3.85 m high. The height is 4.00 m aft of the wing and the ramp is 5.40 m long.

The Airbus A400M will operate in many configurations including cargo transport, troop transport, Medical evacuation, aerial refuelling, and electronic surveillance. The aircraft is intended for use on short, soft landing strips and for long-range, cargo transport flights.

The cockpit features a fly-by-wire flight control system with sidestick controllers and flight envelope protection. Like Airbus' other aircraft, the A400M will have a full glass cockpit (all information accessed through large colour screens) and as such will represent a technological leap compared to the older C-130s and C-160s that many countries now operate.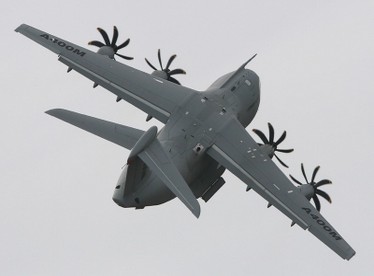 The A400M's wings are primarily carbon fibre reinforced plastic. The eight-bladed Scimitar propeller is also made from a woven composite material. The aircraft is powered by four Europrop TP400-D6 engines rated at 8,250 kW (11,000 hp) each, which are the third most powerful turboprop engines ever produced after the contra-rotating Kuznetsov NK-12 and Progress D-27, making the Europrops the most powerful single-axle props. One of the few propeller powered aircraft with swept wings, the turboprops provide an efficient cruise speed of 780 km/h (480 mph) which falls between the C-130 and the jet powered C-17.

The propellers on each wing of the A400M turn in opposite directions, with the tips of the propellers advancing from above towards the midpoint between the two engines. This is in contrast to the overwhelming majority of multi-engine propeller driven aircraft where all propellers on the same wing turn in the same direction. The counter-rotation is achieved by the use of a gearbox fitted to two of the engines, and only the propeller turns the opposite direction; all four engines are identical and turn in the same direction which eliminates the need to have two different "handed" engines on stock for the same aircraft, which simplifies maintenance and supply costs. This configuration has been dubbed DBE (Down Between Engines), it allows the aircraft to produce more lift and lessens the torque and prop wash on each wing. It also reduces yaw in the event of an outboard engine failure.
EADS and Thales will provide the new Multi-Colour Infrared Alerting Sensor (MIRAS) missile warning sensor for the A400M.