The Chengdu J-10 (Jian Shí; literally "Annihilator Ten") is a multirole fighter aircraft designed and produced by the People's Republic of China's Chengdu Aircraft Industry Corporation (CAC) for the People's Liberation Army Air Force (PLAAF). Known in the West as the "Vigorous Dragon", the J-10 is a multi-role combat aircraft capable of all-weather day/night operation.

Development

The program was originally backed by the Chinese leader, Deng Xiaoping, who authorized spending of half a billion Renminbi to develop an indigenous aircraft, but the program did not start until several years later, in January 1988, when the Chinese government began initial development of the Project #10 to develop a fighter to counter new fourth generation fighters then being introduced by the USSRThe 611th Institute, also known as the Chengdu Aircraft Design Institute, was tasked as the main developer, with Song Wencong the chief designer of the J-7III, assigned as the chief designer and Xue Chishou as the chief engineer. The deputy general designer was Mr. Su Longqing Initially designed as a specialized fighter, it was later recast as a multirole aircraft capable of both air to air combat and ground attack missions.

Although the existence of the J-10 was long reported both inside and outside of China, the Chinese government did not officially admit the existence of the aircraft until January 2007, when the first photographs of the J-10 were allowed to be published to the public by the Xinhua News Agency. Having been designed under such secrecy, before its official disclosure many details of the J-10 were subject to much speculation. Rumors of a crash during flight testing, however, have been openly denied by the government. During the official announcement of the J-10, on 1 January 2007, both the Xinhua News Agency and the PLA Daily listed no crashes since the start of the project as one of the accomplishments of the test pilots. However, later reports reveal that one of the prototype J-10s did crash and the Chinese government tried to cover up the details regarding the crash.

According to Chinese media reports, the first plane, "J-10 01", was rolled out in November 1997, and the aircraft made its successful maiden flight on 23 March 1998, flown by test pilot Lei Qiang and lasting for twenty minutes. Another test pilot, Li Zhonghua test flew the prototype on aerodynamic performance trials that lasted till early December, 2003, during which time aerial refueling tests were also successfully completed. In these aerodynamic tests, the aircraft was pushed beyond its parameters of the original design and it was discovered that the aircraft could easily withstand the greater requirements. The last part of the test flight programme was the live firing of air-to-air missiles by test pilot Xu Yongling which lasted from 21 December 2003 to 25 December 2003.
The aircraft were first delivered to the 13th Test Regiment on 23 February 2003. The aircraft was given the status 'operational' in December of the same year, after 18 years in development. The first operational regiment was the 131st Regiment of the 44th Division. It is rumored that a regiment of the 3rd Division has also J-10s.

Export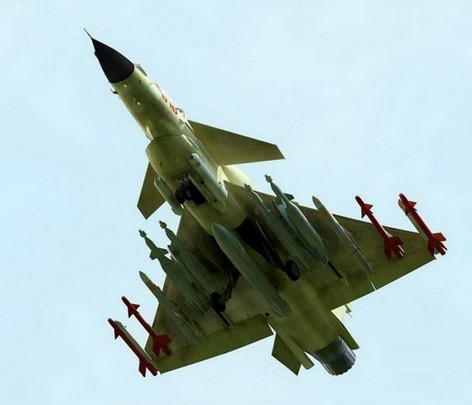 Plans are in place for AVIC to aggressively market an upgraded J-10 variant, most likely the J-10B, once its development is complete. Several countries have shown interest and Pakistan is likely to be the first export customer, with deliveries taking place in 2014-2015.
In late February 2006 the then President of Pakistan, Pervez Musharraf, was shown the J-10 and JF-17 production facilities, also taking the opportunity to sit in the cockpits of both aircraft. He later said the Chinese had offered to sell the J-10 to Pakistan and the offer would be considered by the government and Pakistan Air Force (PAF). On 12 April 2006 the Pakistani cabinet approved the purchase of at least 36 J-10. On 7 March 2009 Air Chief Marshal Tanvir Mehmood Ahmed, then Chief of the Air Staff of the PAF, stated that the high-tech fighters would be designated FC-20 and two squadrons (36 aircraft) would be delivered to the PAF in 2014-2015, after some improvements in accordance with PAF requirements.

Foreign participation
According to official Chinese sources, the J-10 is said to have been developed from the now canceled Chengdu J-9. However, there have been conflicting reports about a possible relationship between the J-10 and the Israeli IAI Lavi fighter program, the latter having a similar canard-configuration. The J-9 program predated both of the other aircraft. In an interview, the general designer of J-10, Mr. Song Wencong said, "Our nation's new fighter's external design and aerodynamics configuration are completely made by us and did not receive foreign assistance, this made me very proud. Our nation developed J-9 in the 1960s, this adopted the canard configuration. So, those statements that said J-10 is a copy of Israeli Lavi are just laughable."

The strongest admission of Israeli involvement in the J-10's development by Israeli authorities appeared in a statement made by an official as American authorities investigated alleged Lavi technology transfers to China. Without mentioning either Lavi or J-10, the Director General of Israel's Ministry of Defense David Lari "acknowledged in an Associated Press interview that 'some technology on aircraft' had been sold to China and that some Israeli companies may not have 'clean hands'".
In May 2008, Jane's Information Group reported several interviews with Russian sources claiming to be involved with various Chengdu military projects. A number of engineers, designers and technical specialists described their visits to Chengdu and other areas of China in the 1980s. A source alleged that high-level Chengdu officials described the possession of a single Lavi prototype at one of Chengdu's facilities. They also claim that in 2000, two years after the J-10's maiden flight, aerodynamic models were sent to Russian wind tunnel testing facilities to study the J-10's aerodynamics.

During the 2006 Farnborough Airshow, the Russian Siberian Aeronautical Research Institute (SibNIA) confirmed its participation in the J-10 program. According to the article, this participation was limited to observation and instruction as "scientific guides." The sources also called the J-10 "more or less a version of the [Israel Aircraft Industries] Lavi", but also a "a melting pot of foreign technology and acquired design methods" Left unelaborated is the degree of Israeli participation - if any - in J-10 development.
Kommersant's reporter Kostantin Lantratov affirmed that Russian consent was required to export the J-10, given its Russian AL-31 engine.

It has been reported that composite materials tested in the Delsen Testing Laboratories in Glendale, California during the year 1990 were related to the J-10 project.

Design
J-10 was designed by the Chengdu Aircraft Design Institute (CADI), a subordinate research institute of Chengdu Aircraft Industry Corporation (CAIC). Some of the designers and their roles are identified as follows; Xue Chishou, chief engineer, also deputy general manager of CAIC), Zhou Ziquan (chief test engineer, also deputy director of CADI). In a rather unusual agreement, the single seat version of the J-10 and the twin seat version of J-10 were designed by two different general designers; Song Wencong for the single seat version and Yang Wei for the twin seat version, also the general designer of the JF-17 light-weight fighter. Sang Jianhua of CADI was responsible for airframe design features that reduce radar signature.

Airframe and cockpit
Constructed from metal alloys and composite materials for high strength and low weight, the airframe's aerodynamic layout adopts a "tail-less canard delta" wing configuration. A large delta wing is mid-mounted towards the rear of the fuselage, while a pair of canards (or foreplanes) are mounted higher up and towards the front of the fuselage, behind and below the cockpit. This configuration provides very high agility, especially at high speed. A large vertical tail is present on top of the fuselage and small ventral fins underneath the fuselage provide further stability.

A rectangular air intake is located underneath the fuselage, providing the air supply to the engine. Also under the fuselage and wings are 11 hardpoints, used for carrying various types of weaponry and drop-tanks containing extra fuel.
The retractable undercarriage comprises a steerable pair of nose-wheels underneath the air intake and two main gear wheels towards the rear of the fuselage.

The cockpit is covered by a two-piece bubble canopy providing 360 degrees of visual coverage for the pilot. The canopy lifts upwards to permit cockpit entry and exit. The Controls take the form of a conventional centre stick and a throttle stick located to the left of the pilot. These also incorporate "hands on throttle and stick" (HOTAS) controls. A zero-zero ejection seat is provided for the pilot, permitting safe ejection in an emergency even at zero altitude and zero speed.

Avionics (aircraft related)
Flight control system
Due to the J-10's aerodynamically unstable design, a digital quadruplex-redundant fly-by-wire flight control system aids the pilot in flying the aircraft. Chinese aircraft designer Yang Wei is claimed to be the chief designer of the fly-by-wire flight control system, although this is disputed by analyst Richard Fisher who credits Israeli consultants for developing the system. The flight control computer provides automatic flight coordination and keeps the aircraft from entering potentially dangerous situations such as unintentional slops or skids. This therefore frees the pilot to concentrate on his intended tasks during the combat.

Flight instrumentation
Information is provided visually to the pilot via three liquid crystal (LCD) Multi-function displays (MFD) in the cockpit. Chief designer of the flight instrumentation panel was Zhou Han, unrelated to the chief test engineer), who was in charge of both the CRT display design at the early stages of development and the later LCD design that is currently adopted by J-10 in service.
The LCD display panel entered service shortly after 2000. The LCD displays and earlier CRT displays for J-10 (and that of WZ-10, J-11 and JH-7) are manufactured by the Suzhou Long Wind Machinery Plant, later reorganized as AVIC Radar and Avionics Equipment Research Institute .

In addition to the flight instrumentation, a Chinese holographic head-up display (HUD) is also present. The HUD shows important flight and combat related information such as targeting cues. It can also be used as a radar scope, a feature believed to be inspired by the HUDs of Russian aircraft, that allows the pilot to keep his eyes focused at infinity while working with his radar. Monochrome images from electro-optical avionics pods (FLIR and targeting pods) can also be displayed on the HUD. The HUD was designed to overcome issues with the HUDs of Russian fighters, which experienced significant fogging problems when deployed in humid and tropical zones of China, as they were originally designed for deployment in arid Arctic/sub-Arctic zones. The modular design of the HUD system and use of the MIL-STD-1553B databus architecture allows HUDs of Western origin to be integrated if desired by the user.

Avionics (mission related)
Electronic warfare
A comprehensive internal electronic counter-measures (ECM) suite is likely to be present, which can be supplemented by active jammer pods such as the BM/KG300G carried externally on the aircraft's hardpoints. Additionally, the KZ900 signals intelligence (SIGINT) pod can be carried for reconnaissance missions.

Infra-Red Search and Track
A Chinese infra-red search and track (IRST) system developed by the Sichuan Changhong Electric Appliance Corporation, the Type Hongguang-I (Rainbow Light-I) Electro-Optical Radar is integrated with the J-10. It is a third generation optronics system utilising a HgCdTe focal array with imaging infra-red (ImIR) capability. Receiving its certification on 3 March 2005 and subsequently entering service with the PLAAF, the system was revealed to the public one year later at a conference on the Sichuan province of China, during which the system was demonstrated to visiting officials. Based on the limited information released, Type Hongguang-I has a maximum range of 75 km.

Although the Type Hongguang-I was designed to be lighter and more compact than similar Russian systems so that it could be fitted in the nose of J-10 while leaving enough space for a suitable radar, the current production model J-10 does not have enough space and must carry a podded version externally on one of the aircraft's hardpoints. However, recently released images show a modified variant of the J-10 with what is believed to be an IRST device fitted to the upper starboard side of the nose (see Variants). Type Hongguang-I is also designed to be compatible with China's Shenyang J-11, Shenyang J-8 and Xian JH-7 combat aircraft, as well as the Xian H-6 bomber and Sino-Pakistani JF-17 light-weight fighter.

Radar and targeting
According to Chengdu Aircraft Industry Corporation officials the J-10 uses a multi-mode fire-control radar designed in China. The radar has a mechanically scanned planar array antenna and is capable of tracking 10 targets. Of the 10 targets tracked, 2 can be engaged simultaneously with semi-active radar homing missiles or 4 can be engaged with active radar homing missiles.
The radar is believed to be designed by the Nanjing Research Institute of Electronic Technology (NRIET), designated KLJ-10 and a smaller variant is claimed to be installed on the JF-17 light-weight fighter. Believed to be based on technologies from Russia, Israel or a combination of both, the radar should be comparable to Western fighter radar designs of the 1990s. It may also be replaced by more advanced radars of other origin on export versions of the J-10. The Italian FIAR (now SELEX Galileo) Grifo 2000/16, has been offered to the Pakistan Air Force for installation on the J-10, should the PAF induct the aircraft. On June 14, it was announced by Chinese state media that a version of J-10 has been equipped with a phased array radar.

In Chinese military technology related exhibitions, various helmet-mounted display (HMD) systems developed by Chinese organisations have been shown. It is believed that the J-10 is integrated with such a system to assist the pilot in targeting enemy aircraft. The J-10 has also been featured in photos and models carrying the FILAT (Forward-looking Infra-red Laser Attack Targeting) pod for laser designation of targets and the Blue Sky forward looking infra-red (FLIR) pod for low visibility, low altitude flights.

Propulsion

The J-10 is powered by a single Russian Lyulka-Saturn AL-31FN turbofan engine giving a maximum static power output of 12,500 kgf (123 kN, 27,600 lbf)). The most significant difference between the AL-31FN and the AL-31F is the arrangement of certain parts and mechanisms due to spacial limitations of the engine bay in the J-10. The AL-31F is designed for a twin engine aircraft such as the Su-27. For the J-10's AL-31FN variant, protruding parts of the engine such as the gearbox and pump are mounted opposite to that of AL-31F.
The AL-31FN was initially expected to be replaced by a domestic powerplant developed and manufactured in China, the WS-10A (WoShan-10A) Taihang turbofan, giving a thrust of 129 kN (13,200 kgf or 29,101 lbf); however, the PLAAF delayed integration of the WS-10 onto the aircraft given development difficulties with the engine.

Weaponry and external loads
The aircraft's internal armament consists of a 23 mm twin-barrel cannon, located underneath the port side of the intake. Other weaponry and equipment is mounted externally on 11 hardpoints, to which 6,000 kg (13,228 lb) of weaponry such as missiles and bombs, drop-tanks containing fuel and other equipment such as avionics pods can be attached.
Air-to-air missiles deployed may include short range air-to-air missiles such as the PL-8 and PL-9, medium-range radar-guided air-to-air missiles such as the PL-11 and PL-12, unguided and precision guided munitions such as laser-guided bombs, anti-ship missiles such as the YJ-9K and anti-radiation missiles such as the PJ-9.