The Lockheed Martin/Boeing F-22 Raptor is a single-seat, twin-engine fifth-generation supermaneuverable fighter aircraft that uses stealth technology. It was designed primarily as an air superiority fighter, but has additional capabilities that include ground attack, electronic warfare, and signals intelligence roles. Lockheed Martin Aeronautics is the prime contractor and is responsible for the majority of the airframe, weapon systems and final assembly of the F-22. Program partner Boeing Defense, Space & Security provides the wings, aft fuselage, avionics integration, and all of the pilot and maintenance training systems.
The aircraft was variously designated F-22 and F/A-22 during the years prior to formally entering USAF service in December 2005 as the F-22A. Despite a protracted and costly development period, the United States Air Force considers the F-22 a critical component for the future of US tactical air power, and claims that the aircraft is unmatched by any known or projected fighter, while Lockheed Martin claims that the Raptor's combination of stealth, speed, agility, precision and situational awareness, combined with air-to-air and air-to-ground combat capabilities, makes it the best overall fighter in the world today. Air Chief Marshal Angus Houston, Chief of the Australian Defence Force, said in 2004 that the "F-22 will be the most outstanding fighter plane ever built."
The high cost of the aircraft, a lack of clear air-to-air combat missions because of delays in the Russian and Chinese fifth generation fighter programs, a US ban on Raptor exports, and the ongoing development of the supposedly cheaper, and more versatile F-35 resulted in calls to end F-22 production. In April 2009 the US Department of Defense proposed to cease placing new orders, subject to Congressional approval, for a final procurement tally of 187 Raptors. The National Defense Authorization Act for Fiscal Year 2010 was signed into law in October 2009 without funding for further F-22 production.

Role Stealth air superiority fighter, multirole fighter
National origin United States
Manufacturer Lockheed Martin Aeronautics Boeing Integrated Defense Systems
First flight YF-22: 29 September 1990
F-22: 7 September 1997
Introduced 15 December 2005
Status In service
Primary user United States Air Force
Number built 168 as of October 2010 (187 planned)
Program cost US$65 billion
Unit cost US$150 million (flyaway cost for FY2009)
Developed from Lockheed YF-22
Developed into X-44 MANTA FB-22

Development
Origins


In 1981 the United States Air Force (USAF) developed a requirement for a new air superiority fighter, the Advanced Tactical Fighter (ATF), to replace the capability of the F-15 Eagle, primarily the F-15A, B, C and D variants. ATF was a demonstration and validation program undertaken by the USAF to develop a next-generation air superiority fighter to counter emerging worldwide threats, including development and proliferation of Soviet-era Su-27 "Flanker"-class fighter aircraft. It was envisioned that the ATF would incorporate emerging technologies including advanced alloys and composite materials, advanced fly-by-wire flight control systems, higher power propulsion systems, and low-observable/stealth technology.
A request for proposal (RFP) was issued in July 1986, and two contractor teams, Lockheed/Boeing/General Dynamics and Northrop/McDonnell Douglas were selected in October 1986 to undertake a 50-month demonstration/validation phase, culminating in the flight test of two prototype aircraft, the YF-22 and the YF-23. Each design team produced two prototypes featuring one of two engine options, one featuring thrust vectoring. The Pratt & Whitney F119 turbofan with vectored thrust was found to be worth the extra expense and complexity, as it permits a tighter turning radius, a valuable capability in dogfights.
During the development process in late 1980s, expected growth, the ATF's increasing takeoff weight and cost drove out many features. A dedicated Infra-red search and track (IRST) system was downgraded from multi-color to single color then deleted, the side-looking radars were deleted and the ejection seat requirement was downgraded to the McDonnell Douglas ACES II (in place of a fresh design able to cover the full flight envelope).
On 23 April 1991, the USAF ended the design and test flight competition by announcing Lockheed's YF-22 as the winner. It was anticipated at the time that 650 aircraft would be ordered.

Into production
The YF-22 was modified for the production F-22. Several small design changes were made. The swept-back angle on the wing's leading edge was decreased from 48 degrees to 42 degrees, while the vertical stabilizer area was decreased 20%. To improve pilot visibility, the canopy was moved forward 7 inches (178 mm) and the engine intakes were moved rearward 14 inches (356 mm). The shape of the wing and stabilator trailing edges was refined to improve aerodynamics, strength, and stealth characteristics. Also, the vertical stabilizer was shifted rearward.
The production F-22 model was unveiled on 9 April 1997 at Lockheed Georgia Co., Marietta, Georgia. It first flew on 7 September 1997. The first production F-22 was delivered to Nellis Air Force Base, Nevada, on 14 January 2003 and "Dedicated Initial Operational Test and Evaluation" commenced on 27 October 2003. By 2004, 51 Raptors had been delivered.
In 2006, the Raptor's development team, composed of Lockheed Martin and over 1,000 other companies, plus the United States Air Force, won the Collier Trophy, American aviation's most prestigious award. The U.S. Air Force in 2006 sought to acquire 381 F-22s to be divided among seven active duty combat squadrons, and three integrated Air Force Reserve Command and Air National Guard fighter squadrons.

F-22 production was split up over many subcontractors across 46 states in an apparent strategy to increase congressional support for the program. The way the production was split up, and the number of new technologies used may have led to increased costs and production delays. Many essential capabilities were deferred to post-service upgrades, which reduced the initial cost, but increased the total project cost. Each F-22 required "1,000 subcontractors and suppliers and 95,000 workers" to build it.

Procurement
The United States Air Force originally planned to order 750 ATFs, with production beginning in 1994; however, the 1990 Major Aircraft Review led by Defense Secretary Dick Cheney altered the plan to 648 aircraft beginning in 1996. The goal changed again in 1994, when it became 442 aircraft entering service in 2003 or 2004, but a 1997 Department of Defense report put the purchase at 339. In 2003, the Air Force said that the existing congressional cost cap limited the purchase to 277. By 2006, the Pentagon said it will buy 183 aircraft, which would save $15 billion but raise the cost of each aircraft, and this plan has been de facto approved by Congress in the form of a multi-year procurement plan, which allows for further orders later. The total cost of the program by 2006 was $62 billion.
In April 2006, the cost of the F-22 was assessed by the Government Accountability Office to be $361 million per aircraft. This cost reflects the F-22 total program cost, divided by the number of fighters the Air Force is programmed to buy; and which has so far invested $28 billion in the Raptor's research, development and testing. That money, referred to as a "sunk cost", is already spent and is separate from money used for future procurement. The Unit Procurement Cost was estimated at $177.6 million in 2006 based on a production run of 181 airframes.

By the time all 183 fighters have been purchased, $34 billion will have been spent on actual procurement, resulting in a total program cost of $62 billion or about $339 million per aircraft. The incremental cost for one additional F-22 is around $138 million; decreasing with larger volumes.
On 31 July 2007, Lockheed Martin received a multiyear contract for 60 F-22s worth a total of US$7.3 billion. The contract brought the number of F-22s on order to 183 and extended production through 2011. Restarting production after production is shut down would greatly increase costs; building 75 more would cost an estimated $70 million extra per unit.

Ban on exports
No opportunity for export currently exists because the export sale of the F-22 is barred by American federal law. Most current customers for U.S. fighters are either acquiring earlier designs like the F-15, F-16, and F/A-18E/F Super Hornet, or else are waiting to acquire the F-35 Lightning II (Joint Strike Fighter), which contains technology from the F-22 but is designed to be cheaper, more flexible, and available for export from the start. The F-35 will not be as nimble as the F-22 or fly as high or as fast, but its radar and avionics will be more advanced.

The Japanese government reportedly showed interest in buying F-22s in its Replacement-Fighter program for the Japan Air Self-Defense Force (JASDF). If it were to occur, it would most likely involve a "watered-down" export variant while still retaining most of its advanced avionics and stealth characteristics. However, such a proposal would still need approval from the Pentagon, State Department and Congress. The Japanese Government sought to purchase the F-22 to decrease the number of JASDF's fighters to reduce cutting engineering costs and number of pilots. But some Japanese media raised concern that costs to buy and operate F-22s "would require a lifting of the popular 1 percent of GDP military budget ceiling in Japan." On 9 June 2009, Japanese Defense Minister Yasukazu Hamada said that Japan still seeks the F-22.

The US Congress upheld the ban on F-22 Raptor foreign sales during a joint conference on 27 September 2006. After talks in Washington in December 2006, the US DoD reported the F-22 would not be available for foreign sale.
Some Australian politicians and defense commentators have proposed that Australia purchase F-22s instead of the F-35. In 2006, the Australian Labor Party supported this proposal on the grounds that the F-22 is a proven, highly capable aircraft, while the F-35 is still under development. However, Australia's Howard government ruled out purchase of the F-22, on the grounds that it is unlikely to be released for export, and does not have sufficient ground/maritime strike capacity

In 2007, the Australian government ordered a review of plans to procure the F-35 and F/A-18E/F Super Hornet. This review will include an evaluation of the F-22's suitability for Australia; moreover, then Defence Minister Joel Fitzgibbon stated: "I intend to pursue American politicians for access to the Raptor". In February 2008, U.S. Defense Secretary Robert Gates said he had no objection to sale of the Raptor to Australia, but Congress would have to change the law.
The 2010 defense authorization bill was signed on 28 October 2009, included provisions requiring the DoD to prepare a report on the costs and feasibility for an F-22 export variant and another report on the impact of F-22 export sales on the U.S. aerospace industry.
"The IAF would be happy to equip itself with 24 F-22s, but the problem at this time is the US refusal to sell the aircraft, and its $200 million price tag."

Israeli Air Force (IAF) chief procurement officer Brigadier-General Ze'ev Snir.
Thomas D. Crimmins of the Washington Institute for Near East Policy, who has written about a possible Israeli strike on Iran, stated in 2009 that the F-22 may be the only current aircraft that can evade the Russian S-300 air defense system which Russia may sell to Iran. However, Lockheed Martin has expressed confidence in the ability of the F-35 to destroy S-300 systems and Russia has voted for United Nations sanctions that they say prevent the sale of S-300 systems to Iran.

End of procurement and production
In 2006, David M. Walker, Comptroller General of the United States at the time, found that "the DOD has not demonstrated the need or value for making further investments in the F-22A program."

During the two-month grounding of nearly 700 older F-15s in November and December 2007, some US Senators demanded that Deputy Secretary of Defense Gordon England release three government reports that support additional F-22 Raptors beyond the planned 183 jets. The USAF has requested that the F-22 remain in production after the 183 planned fighters. This was believed at the time to have been a response to the grounding of F-15A-D fighters.

In January 2008, the Pentagon announced that it would ask Congress for funds to buy additional F-22s to replace other aircraft lost in combat, and proposed that $497 million that would have been used to shut down the F-22 line instead be used to buy four more F-22s, keeping open the production line beyond 2011 and providing the next Presidential administration the option to buy even more F-22s. The funds earmarked for the line shutdown, however, were directed by Pentagon Comptroller Tina W. Jonas on 17 December 2007, to be used to fund repairs to the F-15 fleet caused by the worldwide grounding of that aircraft in November 2007. This diversion had the same effect of postponing the decision to shut down the F-22 production line until at least 2009.
An August 2008 RAND study showed that, as a land based aircraft, the F-22 would have little impact on a future conflict with China over Taiwan as its nearby bases would be shutdown by MRBMs and farther bases would require the assistance of tanker aircraft that would be quickly lost. The 2010 report by the United States-China Economic and Security Review Commission indicated that the MRBM threat to American airbases had dramatically increased in just the last few years.
On 24 September 2008, US Congress passed a defense spending bill with funding for F-22 long lead items for future production. On 12 November 2008, the Pentagon released $50 million of the $140 million approved by Congress to buy parts for an additional four aircraft, thus leaving the Raptor program in the hands of the incoming Obama Administration. Additional funds to complete the four aircraft were provided in a war supplemental bill, for a total of 187 F-22s procured.

On 6 April 2009, as part of the 2010 Pentagon budget announcement, Secretary of Defense Gates called for production of the F-22 to be phased out by fiscal year 2011, leaving the USAF with 187 fighters. F-35 acquisition would be accelerated. On 17 June 2009 the House Armed Services Committee inserted $368.8 million in the budget markup as a down payment for a further 12 F-22s in FY 2011.
On 9 July 2009, General James Cartwright, Vice Chairman of the Joint Chiefs of Staff, explained to the U.S. Senate Committee on Armed Services his reasons for supporting termination of the F-22 production line. He believes, most importantly, that fifth-generation fighters need to be proliferated to all three services, a need that could only be met by shifting more resources to producing the 10-years more advanced, multi-service and multirole F-35. He further noted that one of the highest issues of concern of the combatant commanders was the ability to conduct electronic warfare (EW). Currently, the U.S. armed forces share only a single airborne EW platform, the EA-6B Prowler, which is being retired and partially replaced with the EA-18G Growler. Gen. Cartwright believes that keeping the F/A-18 production line "hot" offers the dual benefits of providing a fallback option should problems arise with the F-35 program, as well as leaving an option to purchase further Growlers, since the U.S. Navy currently plans to buy only enough for its own needs with no additional EW aircraft to support joint operations.

Statement from Loren Thompson of the Lexington Institute, on the termination of the F-22 production.
On 21 July 2009, the United States Senate voted in favor of ending F-22 production, in the face of intense lobbying by President Obama against funding the planes, and threats to sign what would have been his first veto. Secretary of Defense Robert Gates said that the decision to stop production of F-22s was taken in light of the capabilities of the F-35. A statement issued by Secretary Gates on 21 July 2009 said that "the Pentagon cannot continue with business as usual when it comes to the F-22 or any other program in excess of our needs."

On 29 July 2009, the director of the Air National Guard asked for "60 to 70" of the F-22s for air sovereignty missions, but that these fighters would not need the full ground attack capabilities of the upgraded F-22s. On 30 July 2009, the House agreed to remove funds for an additional 12 aircraft and so abide by the 187 cap. The two versions of the 2010 budget had to be resolved in conference. President Obama had threatened to veto the final bill if it included funds for additional F-22s and funds for certain other projects. President Obama signed the National Defense Authorization Act for Fiscal Year 2010 in October 2009, without funding for F-22 production.

Gates had reduced the requirement from 243 to 187 aircraft by reducing the USAF requirement from two major regional conflicts to one, in line with the forces available from the other services.
RAND estimates that the cost of restarting the production line to build an additional 75 Raptors to be $17 billion or $227 million per aircraft. The RAND paper was produced as part of an USAF study to determine the costs of maintaining F-22 tooling for a future Service Life Extension Program (SLEP). The tooling for F-22 production will be documented in "80-plus" smartbooks (illustrated electronic manuals) and stored at the Sierra Army Depot.
On 17 July 2009, Secretary of Defense Robert Gates threatened Congress with a Presidential veto if Congress continued its plan to purchase more F-22s. Many Air Force generals expressed concern about Russia's and China's stealth fighter development, for example Gen. John Corley, head of the Air Combat Command, wrote in a 9 June 2009 letter to a senator, "In my opinion, a fleet of 187 F-22s puts execution of our current national military strategy at high risk in the near- to mid-term". But Gates commented "Nonsense". On 8 January 2011, Gates clarified that China's development of a fifth-generation fighter had been taken into account when setting the number of F-22s and that the United States would still have a vast advantage in stealth aircraft in 2025, even with recent F-35 delays.
On 11 January 2011, the China's J-20 stealth strike fighter made its first flight. Photographs show the J-20 is noticeably larger than the Raptor, allowing for a larger fuel and weapons load. This unexpected milestone for China might spur a movement to reactivate the F-22 production line. However the United States has very few bases near China to operate F-22s from.

Upgrades
On 5 January 2001, Raptor 4005 flew with the Block 3.0 software, which was the first combat-capable avionics version. In June 2009, Increment 3.1 was tested at Edwards Air Force Base. This provided the F-22 a basic ground attack capability through Synthetic Aperture Radar mapping, Electronic Attack and the GBU-39 Small Diameter Bomb. The F-22 Raptor Increment 3.1 Modification Team with the 412th Test Wing received the Chief of Staff Team Excellence Award for upgrading 149 Raptors. However, the software for the upgrade will not be completed before 2010 and it will not be operationally tested on the F-22A aircraft until late 2010.
"The current F-22A modernization plan will result in 34 Block 20 aircraft used for test and training, 63 combat-coded Block 30s fielded with Increment 3.1, 83 combat-coded Block 35s fielded with Increment 3.2, and 3 Edwards AFB-test coded aircraft. Consideration is also being given to upgrade the 63 Block 30s to the most capable Block 35 configuration."

Extract from Congress dialogue upon the Air Force F-22 Fighter Program.
The next step will be Increment 3.2 with an advanced SDB capability, automatic ground collision avoidance system (Auto GCAS) to enable low level operations and the ability to use the AIM-9X Sidewinder and AIM-120D AMRAAM missiles. However, the F-22 will still lack a helmet mounted cueing system to allow the aircraft to take advantage of the AIM-9X's high off-boresight capability, they may integrate the JHMCS later on. Defense Daily reported that the Joint Helmet Mounted Cueing System was deferred on the F-22 because of maintenance overhead.

Upgrading the first 183 jets to the 3.2 upgrade is estimated to cost $8 billion. In May 2009, Gen. Norton A. Schwartz and Air Force Secretary Michael B. Donley gave testimony to Congress that this would be paid for through the early retirement of legacy fighters. The retirement of 254 fighters over the next year would have reduced the Air Force below the 2,250 fighter minimum requirement for national strategy, but the Fiscal 2010 defense appropriations bill prevented this. And only 249 fourth-generation fighters were retired during Fiscal Year 2010.

Increment 3.2 was expected to be fielded in , and it may include the Multifunction Advanced Data Link that will tie together future U.S. penetration forces of stealth aircraft and unmanned platforms. In July 2009 the USAF announced that three business jets had been deployed with the interim Battlefield Airborne Communications Node (BACN) to allow communication between F-22s and other platforms, until MADL is installed. The USAF has accelerated software portions of the Increment 3.2 upgrade program with an expected completion date in FY 2013 with the rest to be completed later.
Lockheed Martin is working on an upgrade for the AN/AAR-56 Missile Launch Detector (MLD) system to provide situational awareness and defensive Infrared Search and Track along the same lines as the F-35's SAIRST, but with less resolution. The unfunded Increment 3.3 upgrade will include automatic target tracking and so bring the F-22 fleet to full fifth generation situational awareness. On 16 September 2009, Gates said "Our commitment to this aircraft is underscored by the 6 and-a half billion dollars provided over the next few years to upgrade the existing F-22 fleet to be fully mission-capable."
Lockheed Martin has also offered an upgrade that would give the F-22 some, but not all of the capabilities of the F-35.

Replacement
On 3 November 2010, the USAF issued a Materiel and Technology Concepts Search request for a Next Generation Tactical Aircraft (Next Gen TACAIR) to have an initial operational capability (IOC) of approximately 2030.

Design
Characteristics


The F-22 Raptor is a fifth generation fighter that is considered a fourth-generation stealth aircraft by the USAF. Its dual afterburning Pratt & Whitney F119-PW-100 turbofans incorporate pitch axis thrust vectoring, with a range of ±20 degrees. The maximum thrust is classified, though most sources place it at about 35,000 lbf (156 kN) per engine. Maximum speed, without external weapons, is estimated to be Mach 1.82 in supercruise mode, as demonstrated by General John P. Jumper, former US Air Force Chief of Staff, when his Raptor exceeded Mach 1.7 without afterburners on 13 January 2005. With afterburners, it is "greater than Mach 2.0" (1,317 mph, 2,120 km/h), according to Lockheed Martin; however, the Raptor can exceed its design speed limits, particularly at low altitudes, with max-speed alerts to help prevent the pilot from exceeding them. Former Lockheed F-22 chief test pilot Paul Metz stated that the Raptor has a fixed inlet. The absence of variable intake ramps generally limits speeds to approximately Mach 2.0. Such ramps would be used to prevent engine surge resulting in a compressor stall, but the intake itself may be designed to prevent this. Metz has also stated that the F-22 has a greater climb rate than the F-15 Eagle due to advances in engine technology, despite the F-15's thrust-to-weight ratio of about 1.2:1, with the F-22 having a ratio closer to 1:1. The US Air Force claims that the Raptor cannot be matched by any known or projected fighter types, and Lockheed Martin claims that, "the F-22 is the only aircraft that blends supercruise speed, super-agility, stealth and sensor fusion into a single air dominance platform."

The true top speed of the F-22 is unknown to the general public. The ability of the airframe to withstand the stress and heat is a further key factor, especially in an aircraft using as many polymers as the F-22. However, while some aircraft are faster on paper, the internal carriage of its standard combat load allows the aircraft to reach comparatively higher performance with a heavy load over other modern aircraft due to its lack of drag from external stores. It is one of only a handful of aircraft that can sustain supersonic flight without the use of afterburner augmented thrust (and its associated high fuel usage). This ability is now termed supercruise. This allows the aircraft to hit time-critical, fleeting or mobile targets that a subsonic aircraft would not have the speed to reach and an afterburner dependent aircraft would not have the fuel to reach.
The F-22 is highly maneuverable, at both supersonic and subsonic speeds. It is extremely departure-resistant, enabling it to remain controllable at extreme pilot inputs. The Raptor's thrust vectoring nozzles allow the aircraft to turn tightly, and perform extremely high alpha (angle of attack) maneuvers such as the Herbst maneuver (or J-turn), Pugachev's Cobra, and the Kulbit, though the J-Turn is more useful in combat. The F-22 is also capable of maintaining a constant angle of attack of over 60°, yet still having some control of roll.

During June 2006 exercises in Alaska, F-22 pilots demonstrated that cruise altitude has a significant effect on combat performance, and routinely attributed their altitude advantage as a major factor in achieving an unblemished kill ratio against other US fighters and 4th/4.5th generation fighters.
The F-22 is made out of materials that present significant health risks when handled and USAF technicians require eye protection, respirators and thick, industrial gloves to work with these materials.

Avionics
The F-22's avionics include BAE Systems E&IS radar warning receiver (RWR) AN/ALR-94,[120] AN/AAR 56 Infra-Red and Ultra-Violet MAWS (Missile Approach Warning System) and the Northrop Grumman AN/APG-77 Active Electronically Scanned Array (AESA) radar. The AN/APG-77 has both long-range target acquisition and low probability of interception of its own signals by enemy aircraft.
The AN/ALR-94 is a passive receiver system capable of detecting the radar signals in the environment. Composed of more than 30 antennas smoothly blended into the wings and fuselage that provide all around coverage plus azimuth and elevation information in the forward sector, it is described by Tom Burbage, the former head of the F-22 program at Lockheed Martin, as "the most technically complex piece of equipment on the aircraft." With greater range (250+ nmi) than the radar, it enables the F-22 to limit its own radar emission to preserve its stealth. As a target approaches, the receiver can cue the AN/APG-77 radar to track the target with a narrow beam, which can be as focused down to 2° by 2° in azimuth and elevation.
The AN/APG-77 AESA radar, designed for air superiority and strike operations, features a low-observable, active-aperture, electronically-scanned array that can track multiple targets in any weather. The AN/APG-77 changes frequencies more than 1,000 times per second to reduce the chance of being intercepted. The radar can also focus its emissions to overload enemy sensors, giving the aircraft an electronic-attack capability.

The radar's information is processed by two Raytheon Common Integrated Processor (CIP)s. Each CIP can process 10.5 billion instructions per second and has 300 megabytes of memory. Information can be gathered from the radar and other onboard and offboard systems, filtered by the CIP, and offered in easy-to-digest ways on several cockpit displays, enabling the pilot to remain on top of complicated situations. The Raptor's avionics software has some 1.7 million lines of code, written mostly in the DoD's Ada programming language. Most of the code concerns processing data from the radar. The radar has an estimated range of 125-150 miles, though planned upgrades will allow a range of 250 miles (400 km) or more in narrow beams. In 2007, tests by Northrop Grumman, Lockheed Martin, and L-3 Communications enabled the AESA system of a Raptor to act like a WiFi access point, able to transmit data at 548 megabits per second and receive at gigabit speed; this is far faster than the current Link 16 system used by US and allied aircraft, which transfers data at just over 1 Mbit/s.

The F-22 has several capabilities unique to an aircraft of its size and role. For instance, it has threat detection and identification capability on the order of that available on the RC-135 Rivet Joint. While the F-22's equipment is not as powerful or sophisticated, its stealth allows it to safely operate hundreds of miles closer to the battlefield, compensating for the reduced capability.
The F-22 is capable of functioning as a "mini-AWACS". Its radar is less powerful than those in dedicated aircraft such as the E-3 Sentry, but its forward presence again compensates. The F-22's system allows its pilot to designate targets for cooperating F-15s and F-16s, and even determine whether two friendly aircraft are targeting the same enemy aircraft. It is "sometimes [able to identify targets] many times quicker than the AWACS."

The F-22's low probability of intercept radar is being given a high-bandwidth data transmission capability, to allow it to be used in a "broadband" role to permit high-speed relaying of data between friendly transmitters and receivers in the area. The F-22 can already pass data to other F-22s, resulting in considerably reduced radio "chatter".
The IEEE-1394B data bus developed for the F-22 was derived from the commercial IEEE-1394 "FireWire" bus system, often used on personal computers. The same data bus is employed by the subsequent F-35 Lightning II fighter. Sensor fusion combines data from all onboard and offboard sensors into a common view to prevent the pilot from being overwhelmed.
In a critical article former Navy Secretary John Lehman wrote "[a]t least [the F-22s] are safe from cyberattack. No one in China knows how to program the '83 vintage IBM software that runs them."

Former Secretary of the USAF Michael Wynne blamed the use of the DoD's Ada "operating system" (Ada is actually a programming language) as part of the reason for cost overruns and schedule slippages on many major military projects, including the F-22 Raptor. The Raptor actually uses the INTEGRITY-178B operating system from Green Hills Software. The same operating system is used on the F-35, several commercial airliners and the Orion Crew Exploration Vehicle.

Cockpit

The F-22 cockpit is a glass cockpit design without any traditional analog flight instruments and represents a marked improvement on the cockpit design of previous advanced aircraft. The leading features of the F-22 cockpit include simple and rapid start-up, highly developed HMI, light helmet, large anthropometric accommodation and highly integrated warning system. Other main features include the large single-piece canopy, side stick and improved life support systems.
All internal displays are designed to be used with night vision goggles because the aircraft lacks optical or IR vision devices. The Integrated Caution, Advisory, and Warning (ICAW) system combines and filters all messages so that the pilot can be a tactician rather than a housekeeper.

Armament
The Raptor has three internal weapons bays on the bottom and sides of the fuselage. It can carry six compressed carriage medium range missiles in the center bay and one short range missile in each of the two side bays. Four of the medium range missiles can be replaced with two bombracks that can each carry one medium-size bomb or four small diameter bombs. Carrying missiles and bombs internally maintains its stealth capability and maintains lower drag resulting in higher top speeds and longer combat ranges. Launching missiles requires opening the weapons bay doors for less than a second, while the missiles are pushed clear of the airframe by hydraulic arms. This reduces the Raptor's chance of detection by enemy radar systems due to launched ordnance and also allows the F-22 to launch long range missiles while maintaining supercruise. The F-22 can also carry such air-to-surface weapons as bombs with the Joint Direct Attack Munition (JDAM) guidance system, and the new Small-Diameter Bomb (SDB), but cannot self-designate laser-guided weapons as it lacks the F-35's stealthy designator. Entire air-to-surface ordnance is currently limited to 2,000 lb (compared to 17,000 lb of F/A-18). The Raptor carries an M61A2 Vulcan 20 mm rotary cannon, also with a trap door, in the right wing root. The M61A2 is a last ditch weapon, and carries 480 rounds; enough ammunition for approximately five seconds of sustained fire. The opening for the cannon's firing barrel is covered by a door when not in use to maintain stealth. The F-22 has been able to close to gun range in training dogfights without being detected, which can be necessary when missiles are depleted.

The Raptor's very high sustained cruise speed and operational altitude add significantly to the effective range of both air-to-air and air-to-surface munitions. These factors may be the rationale behind the USAF's decision not to pursue long-range, high-energy air-to-air missiles such as the MBDA Meteor. However, the USAF plans to procure the AIM-120D AMRAAM, which is reported to have a 50% increase in range compared to the AIM-120C. The Raptor launch platform provides additional energy to the missile which helps improve the range of air-to-ground ordnance. While specific figures remain classified, it is expected that JDAMs employed by F-22s will have twice or more the effective range of munitions dropped by legacy platforms. In testing, a Raptor dropped a 1,000 lb (450 kg) JDAM from 50,000 feet (15,000 m), while cruising at Mach 1.5, striking a moving target 24 miles (39 km) away. The SDB, as employed from the F-22, should see even greater increases in effective range, due to the improved lift to drag ratio of these weapons. The AIM-120 is the primary missile and the AIM-9 Sidewinder is the short-range missile.

While in its air-superiority configuration the F-22 carries its weapons internally, it is not limited to this option. The wings include four hardpoints, each rated to handle 5,000 lb (2,300 kg). Each hardpoint has a pylon that can carry a detachable 600 gallon fuel tank or a rail launcher that holds two air-air missiles. However, use of external stores compromises the F-22's stealth, and has a detrimental effect on maneuverability, speed, and range (unless external fuel is carried). The two inner hardpoints are "plumbed" for external fuel tanks. These hardpoints allow the mounting pylons to be jettisoned in flight so the fighter can regain its stealth after exhausting external stores. Research is currently being conducted to develop stealth ordnance pod and pylon. Such a pod would comprise of a low observable shape and carry its weapons internally, then would open when launching a missile or dropping a bomb. The pod and pylon could be detached when no longer needed. This system would allow the F-22 to carry its maximum ordnance load while maintaining stealth without loss of maneuverability.

Stealth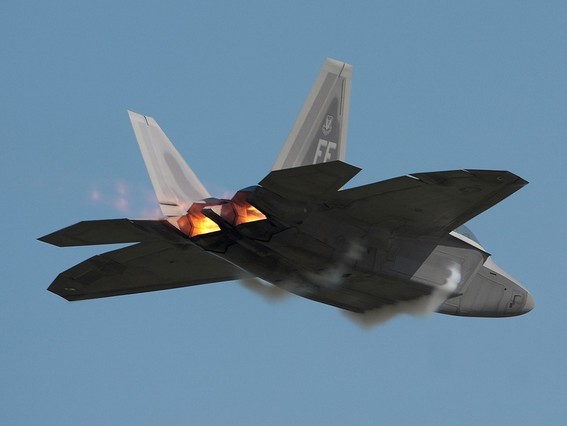 Although several recent Western fighter aircraft are less detectable on radar than previous designs using techniques such as radar-absorbent material-coated S-shaped intake ducts that shield the compressor fan from reflecting radar waves, the F-22 design placed a much higher degree of importance on low observance throughout the entire spectrum of sensors including radar signature, visual, infrared, acoustic, and radio frequency.
The stealth of the F-22 is due to a combination of factors, including the overall shape of the aircraft, the use of radar absorbent material (RAM), and attention to detail such as hinges and pilot helmets that could provide a radar return. However, reduced radar cross section is only one of five facets that designers addressed to create a stealth design in the F-22. The F-22 has also been designed to disguise its infrared emissions to make it harder to detect by infrared homing ("heat seeking") surface-to-air or air-to-air missiles, including its flat (rather than round) thrust vectoring nozzles. Designers also made the aircraft less visible to the naked eye, and controlled radio and noise emissions. The Raptor has an under bay carrier made for hiding heat from missile threats, like surface-to-air missiles.

The F-22 apparently relies less on maintenance-intensive radar absorbent material and coatings than previous stealth designs like the F-117. These materials caused deployment problems due to their susceptibility to adverse weather conditions. Unlike the B-2, which requires climate-controlled hangars, the F-22 can undergo repairs on the flight line or in a normal hangar. Furthermore, the F-22 has a warning system (called "Signature Assessment System" or "SAS") which presents warning indicators when routine wear-and-tear have degraded the aircraft's radar signature to the point of requiring more substantial repairs. The exact radar cross section of the F-22 remains classified. In early 2009 Lockheed Martin released information on the F-22, showing it to have a radar cross section from certain critical angles of -40 dBsm - the equivalent radar reflection of a "steel marble". However, the stealth features of the F-22 require additional maintenance work that decreases their mission capable rate to approximately 62-70%.

The effectiveness of this emphasis on stealth characteristics during the F-22 design process is difficult to measure. While its radar cross-section is almost nonexistent, this is merely a static measurement of the aircraft's frontal or side area and is valid only for a radar source in a stationary location relative to the aircraft. As soon as the F-22 maneuvers, it exposes a different set of angles and a greater surface area to any radar, increasing its visibility. Furthermore, the use of stealth contouring and radar absorbent material are chiefly effective against high-frequency radars, the type usually found on other aircraft. Low-frequency radars, including weather radars and warning stations in areas of the former Soviet Union, are allegedly less affected by stealth characteristics and are more capable of detecting some of the aircraft employing them. The result of these low resolution and fleeting radar contacts will mean that while the defense may know that some sort of stealth aircraft has intruded into their airspace, they will be unable to vector defenses in to shoot down the aircraft, especially a high performance airframe like the F-22.

External lighting
The aircraft has integral position and anti-collision lighting (including strobes) on the wings, compatible with stealth requirements, supplied by Goodrich Corporation. The low voltage electroluminescent formation lights are located on the aircraft at critical positions for night flight operations (on both sides of the forward fuselage under the chin, on the tip of the upper left and right wings, and on the outside of both vertical stabilizers). There are similar air refueling lights on the butterfly doors that cover the air refueling receptacle.

Operational history
Designation and name changes
The YF-22 was originally given the unofficial name "Lightning II", after the World War II fighter P-38, by Lockheed, which persisted until the mid-1990s when the USAF officially named the aircraft "Raptor". The aircraft was also briefly dubbed "SuperStar" and "Rapier". The F-35 later received the Lightning II name on 7 July 2006. The production model was formally named F-22 "Raptor" when the first production-representative aircraft was unveiled on 9 April 1997.
In September 2002, Air Force leaders changed the Raptor's designation to F/A-22. The new designation, which mimicked that of the Navy's F/A-18 Hornet, was intended to highlight plans to give the Raptor a ground-attack capability amid intense debate over the relevance of the expensive air-superiority jet. This was later changed back to simply F-22 on 12 December 2005. On 15 December 2005, the F-22A entered service.

Testing
Flight testing of the F-22 began in 1997. Raptor 4001 was retired and sent to Wright-Patterson AFB to be fired at for testing the fighter's survivability. Usable parts of 4001 would be used to make a new F-22. Another engineering and manufacturing development (EMD) F-22 was also retired and likely to be sent to be rebuilt. A testing aircraft was converted to a maintenance trainer at Tyndall AFB.
On 3 May 2006, a report was released detailing a problem with a forward titanium boom on the aircraft that was not properly heat treated. Officials are still investigating the problem which was caused by the boom portion not being subjected to high temperatures in the factory for long enough, causing the boom to be less ductile than specified and potentially shortening the lives of the first 80 or so F-22s. Work is underway to restore them to full life expectancy. In April 2006, the F-22 fleet underwent modifications at Hill AFB, and at Edwards AFB near Palmdale, California.

Service history
On 15 December 2005 the USAF announced that the Raptor had reached its Initial Operational Capability (IOC).
During Exercise Northern Edge in Alaska in June 2006, 12 F-22s of the 94th FS downed 108 adversaries with no losses in simulated combat exercises. In two weeks of exercises, the Raptor-led Blue Force amassed 241 kills against two losses in air-to-air combat, and neither Blue Force loss was an F-22.
This was followed with the Raptor's first participation in a Red Flag exercise. Fourteen F-22s of the 94th FS supported attacking Blue Force strike packages as well as engaging in close air support sorties themselves in Red Flag 07-1 between 3 February and 16 February 2007. Against designed superior numbers of Red Force Aggressor F-15s and F-16s, it established air dominance using eight aircraft during day missions and six at night, reportedly defeating the Aggressors quickly and efficiently, even though the exercise rules of engagement allowed for four to five Red Force regenerations of losses but none to Blue Force. Further, no sorties were missed because of maintenance or other failures, and only one Raptor was adjudged lost against the virtual annihilation of the defending force. When their ordnance was expended, the F-22s remained in the exercise area providing electronic surveillance to the Blue Forces. While attempting its first overseas deployment to the Kadena Air Base in Okinawa, Japan, on 11 February 2007, a group of six Raptors flying from Hickam AFB, Hawaii experienced multiple computer crashes coincident with their crossing of the 180th meridian of longitude (the International Date Line). The computer failures included at least navigation (completely lost) and communication. The fighters were able to return to Hawaii by following their tankers in good weather. The error was fixed within 48 hours and the F-22s continued their journey to Kadena.

F-22A Raptors of the 90th Fighter Squadron performed their first intercept of two Russian Tu-95MS 'Bear-H' bombers in Alaska, on 22 November 2007. This was the first time that F-22s had been called to support a NORAD mission. Raptors have also shadowed Tu-160 'Blackjack' strategic bombers.

On 12 December 2007, General John D.W. Corley, USAF, Commander of Air Combat Command, officially declared the F-22s of the integrated active duty 1st Fighter Wing and Virginia Air National Guard 192d Fighter Wing fully operational, three years after the first Raptor arrived at Langley Air Force Base, Virginia. This was followed from 13 April to 19 April 2008 by an Operational Readiness Inspection (ORI) of the integrated wing in which it received an "excellent" rating in all categories while scoring a simulated kill-ratio of 221-0. The first pair of Raptors assigned to the 49th Fighter Wing became operational at Holloman Air Force Base, New Mexico, on 2 June 2008.

In December 2007, Secretary of the Air Force Michael Wynne requested that the F-22 be deployed to the Middle East, but Secretary of Defense Gates rejected this, and later requested the resignation of Wynne for the 2007 United States Air Force nuclear weapons incident.

On 28 August 2008, an F-22 from the 411th Flight Test Squadron performed in the first ever air-to-air refueling of an aircraft using synthetic jet fuel. The test was a part of the wider USAF effort to qualify all of its aircraft to use the fuel, a 50/50 mix of JP-8 and a Fischer-Tropsch process-produced, natural gas-based fuel. For the tests, no modifications were made to the F-22 or the KC-135 Stratotanker which performed the refueling.

On 22 July 2009, the United States Senate voted to end F-22 production at 187 fighters. The extreme economic burden of the Raptor was cited, with arguments that since it is not used in Iraq or Afghanistan, the further costs are unnecessary. Defense Secretary Robert Gates announced in April that the military would shift more funding towards intelligence and personnel, rather than hardware only suitable for fighting major wars like the F-22, specifically stating that it is too expensive and does not have sufficient multi-mission capability for current military operations.
In February 2010 the entire fleet was grounded due to rusting ejection seat rods.

Maintenance
There have been several reports as to the F-22's overall mission ready rate and maintenance requirements.
Lockheed-Martin's F-22 spokesman says that the overall mission ready rate has improved from 62% in 2004 to 68% in 2009, and is "on track" to reach 85% by the time the fleet reaches 100,000 flight hours. The Washington Post says that between October 2008 and May 2009, just 55 percent of the deployed F-22 fleet has been available. Air Force Magazine reported that the Washington Post article's was incorrect and that mission capable rates have been climbing, and by June 2009 stood at 62.9%, compared to approximately 70% for the mature F-15 and F-16 aircraft. The Air Force Association states that the current mission capable rate for the entire F-22 fleet is 70%, which is in line with the 71.2 percent the even newer Super Hornet managed on its first wartime deployment.

In July 2009, the Air Force reported that the F-22 requires more than 30 hours of maintenance for every flight hour, with the total cost per flight hour of $44,000. The Office of the Secretary of Defense puts that figure at 34 hours of maintenance per single hour of flight at a cost of $49,808 per hour of flight. However, a Lockheed spokesman says that the variable cost per flight hour is only $19,000, with a direct maintenance man hours per flight hour of 18.10 in 2008 and 20.48 in 2009 The Pentagon requirement is for 12 hours of maintenance per flight hour. The F-22 also reportedly encountered a critical failure every 1.7 hours The F-22 had required maintenance every 0.97 flight hours in 2004. This improved to 3.22 flight hours per maintenance event in production Lot 6 aircraft.
The aircraft's radar-absorbing metallic skin is the principal cause of its maintenance troubles, with skin repairs accounting for more than half of the maintenance. Another source of maintenance problems is that many components require custom hand-fitting and are not interchangeable. The canopy visibility has degraded more rapidly than expected, with refurbishments at 331 flight hours, on average, instead of the required 800 hours. Pentagon officials respond that measuring flying costs for aircraft fleets that have not reached 100,000 flying hours is premature. They say improvements have been made since 2008, and the F-22s are on track to meet key performance parameters by 2010.

During at least one exercise the F-22 maintained a high state of mission readiness. In January 2007, it was reported that the F-22 maintained a 97% sortie rate (flying 102 out of 105 tasked sorties) while amassing a 144-to-zero kill ratio during "Northern Edge" air-to-air exercises held in Alaska, the first large-scale exercise in which the Raptor participated. Lt. Col. Wade Tolliver, the squadron commander of the 27th FS from Langley AFB commented on the upkeep and reliability of the Raptor's RAM during simulated combat conditions, stating "the stealth coatings are not as fragile as they were in earlier stealth aircraft. It isn't damaged by a rain storm and it can stand the wear and tear of combat without degradation."
However, rain has caused "shorts and failures in sophisticated electrical components" when the Raptors were briefly posted to Guam.
Each Raptor requires a month-long packaged maintenance plan (PMP) after every 300 flight hours.