Capability as a Ballistic Missile


North Korea has conducted two nuclear tests, but is not thought to have designed a nuclear warhead that can be delivered by a missile. A device built for an underground test is not constrained by size and weight limits. Turning it into a deliverable warhead has proved to be difficult for countries in the past, requiring a number of years and multiple nuclear tests. A first generation plutonium warhead could have a mass of 1,000 to 1,500 kg. North Korea is currently thought to have enough separated plutonium for fewer than 10 weapons.
While some experts refer to a possible North Korean long-range missile as the TaepoDong-2 (TD-2), that name does not appear to refer to a specific missile configuration. Any long-range missile North Korea might develop in the near term would probably be a variant of the Unha-2 launcher. Analysis suggests that if the Unha-2 could carry a 1,000 kg warhead, it would have a range of 10,000 to 10,500 km, allowing the missile to reach Alaska, Hawaii, and roughly half of the lower 48 states.
However, since the Unha-2 was designed to launch a relatively lightweight satellite, its structure is unlikely to be strong enough to allow it to carry a warhead of that weight. The upper stage would probably have to be redesigned, and the additional structure would add mass that would reduce the missile's range to less than 10,000 km. Similarly, the range would be shorter if the warhead mass was greater than 1,000 kg.
If a 1,000-kg payload were instead launched by the first two stages of the Unha-2, its range could be 7,000-7,500 km, allowing the delivery system to reach Alaska and parts of Hawaii, but not the lower 48 U.S. states.
There are a number of hurdles North Korea would have to overcome in order to field such a missile. First, since Pyongyang is not believed to have a nuclear weapon light enough to deliver on such a missile, it would need to conduct further nuclear tests to reduce the warhead's size and weight.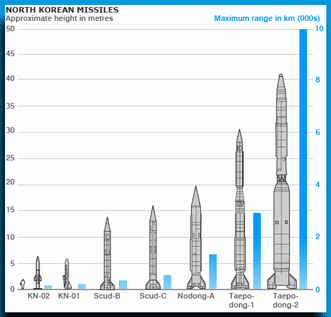 Second, in order to deliver a warhead on a long-range missile, North Korea would need to develop a reentry heat shield. Reentry heating increases rapidly with the reentry speed of a missile, so a 10,000 km range missile would require a significantly better heat shield than that developed for the much shorter range Nodong missile. Because heat shield techniques and materials have been known for many years, North Korea should be able to develop an adequate shield, but that shield could still be a major source of missile inaccuracy.
Developing a heat shield that gives relatively high accuracy is a very difficult engineering task. For example, making the warhead very blunt rather than pointed would cause it to lose most of its speed at high altitude, which would significantly reduce the total heating. But during the slower descent the warhead would be subject to high-altitude winds for a longer time, reducing the accuracy. Streamlining the warhead so that it passes through the atmosphere quickly, on the other hand, leads to high heating rates, which would require more sophisticated heat shielding, such as an ablative coating. Asymmetric ablation can cause strong lateral forces on the warhead during reentry, which would reduce the accuracy. As a result, a missile based on the Unha-2 would likely have an inaccuracy of 10 km or more. Of course, such low accuracy could still be sufficient for a terror weapon aimed at a large population center.
Third, the Unha-2 was test fired from a known, visible site and requires days to prepare for launch. During that time, the missile would be highly vulnerable to attack. Reducing this vulnerability would require launch sites that were concealed from view. For example, missiles could be stored on transporters in caves, and could be rolled out, erected, and fueled. North Korea might try to develop such a capability in the future, but at this point it is still trying to get its missiles to function properly.
Finally, ballistic missiles are complex systems. Given its limited supply of fissile material, North Korea may well be reluctant to place a warhead on a missile that is likely to fail. Understanding and improving launcher reliability would require a series of additional flight tests.